From our sponsors: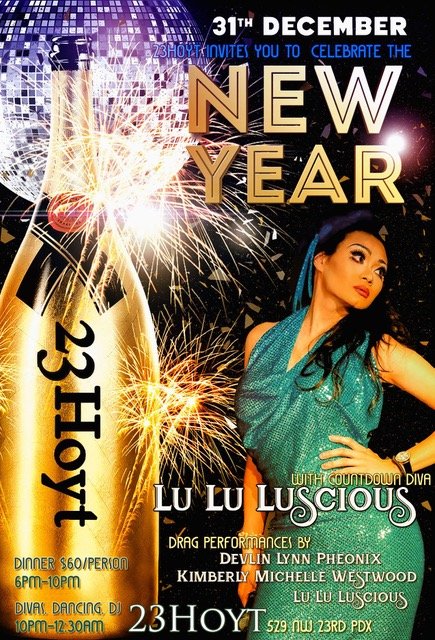 New Year's Eve Countdown
with LULU LUSCIOUS at 23Hoyt
December 31, 2017
Dinner reservations taken from 5 pm to 10:30pm
Party goes until 2 a.m. | Free | 21+
More info + Dinner Reservations: 23Hoyt.com
23Hoyt
529 NW 23rd, PDX 97210
(503) 445-7400
23Hoyt Cordially invites you to celebrate the New Year with us!
Countdown Diva and Drag performer extraordinaire, LuLu Luscious, will keep us company as we dance the night into a new year! With guest performances by Kimberly Michelle Westwood and Devlin Lynn Phoenix!
23Hoyt will be taking Dinner reservations from 5p-10:30 p.m., a delicious three course prefixed menu crafted by Chef Lorenzo Capoccia, at $60 per person. Once Dinner service ends, the lights go down and the disco ball sparkles up the room for an enchanting night like no other!
DJ. Dance. Drag. Elegant Vibes.
The Party Countdown Showcase is complementary with dinner, and priority will be given to dinner guests in regards to space.
The Queens love TIPS so bring a positive attitude and singles to share!
Make your Dinner reservation through 23Hoyt.com
or call us at (503) 445-7400
Seats will sell fast!