From our sponsors: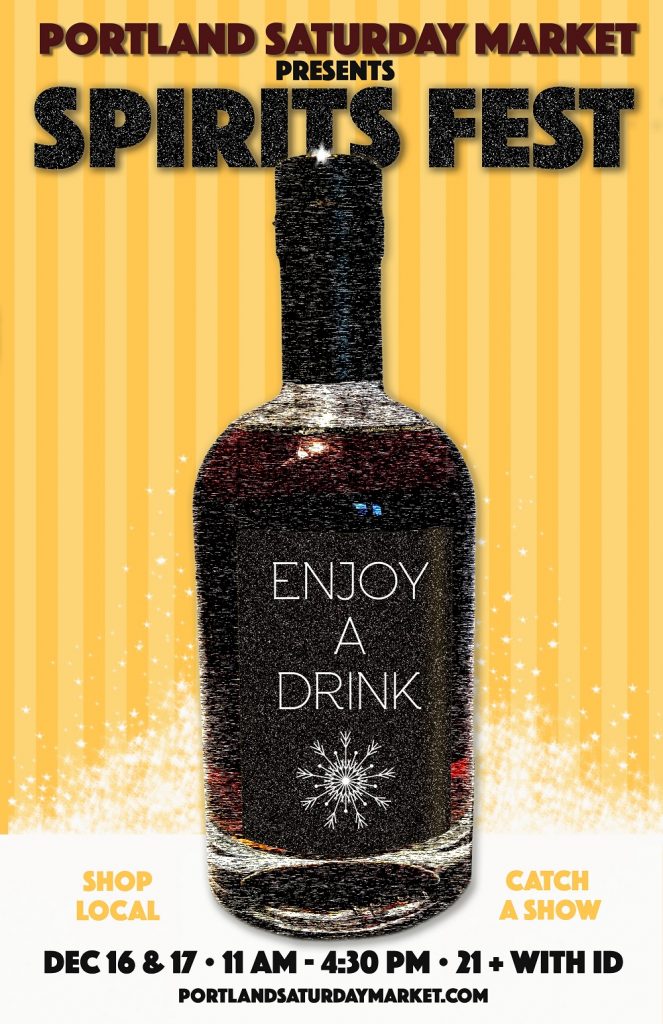 Holiday Spirits Fest 2017
December 16-17, 2017
Saturdays 10:00 a.m. – 5:00 p.m.
Sundays 11:00 a.m. – 4:30 p.m.
Free | 21+
More info: portlandsaturdaymarket.com
Portland Saturday Market
2 SW Naito Parkway, Portland, OR 97204
Portland Saturday Market presents…Holiday Spirits Fest 2017
1. Have a drink
2. Catch a show
3. Shop Local
It is all about meeting the makers of the local crafted spirits and the wonderful concoctions people can create using local spirits.
Tastings are free, but you can purchase cocktails and bottles, too.
Bull Run Distillery- www.bullrundistillery.com
Thomas & Sons Distillery – www.thomasandsonsdistillery.com
Vivacity Fine Spirits- www.vivacityspirits.com
Heritage Distilling Co.- www.heritagedistilling.com
Entrance with valid 21+ w/ ID.
While at the festival you'll hear the fine local tunes of:
Saturday 12/16:
11:30-1:30- Tess Creasy
2:00-3:30- Andrew Grade
Sunday 12/17
11:30-1:30- Gemini Twist
2:00-3:30- Shoehorn
It's Festival of the Last Minute so, continue your experience at the market with some local shopping at the nation's largest weekly open-air arts, crafts market. We offer a unique experience for the whole family.
Stroll around the market to buy distinctive artisan gifts and eat delicious international foods.