From our sponsors: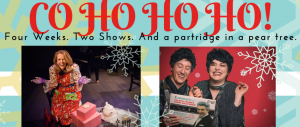 Co Ho Ho Ho!
December 9-30, 2017
Holiday Shorts & Songs – December 9-17
A Liberace & Liza Christmas – December 21-30
Single Tickets $20 in Advance, $25 at the Door
Two Show Pass $30
More info: coho-productions.org
CoHo Theatre
2257 NW Raleigh St, Portland, OR 97210
CoHo Productions Presents
Holiday Shorts & Songs: A Live-Action Mash-Up of Holiday Toons
December 9, 14, 15, 16 at 7:30pm
December 10 & 17 at 2:00pm
Featuring Susannah Mars, Isaac Lamb and the CoHo Clown Cohort with musical accompaniment by Eric Nordin. Directed by Philip Cuomo.
ABOUT THE PRODUCTION
Like the famous snowman we all know and love, we're busting out our corncob pipes and button noses bringing your favorite holiday cartoons and songs to life. Grab your stocking, spike your eggnog, bring your office party, and get ready to hang the mistletoe, as Susannah Mars, Isaac Lamb, and our very own CoHo Clown Cohort polish their red noses and take you on a hilarious and nostalgic journey through the animated traditions of our youth.
———————
CoHo Presents In Sequins Productions
A Liberace & Liza Christmas
December 21 & 22 at 7:30pm
December 23 at 2:00pm and 7:30pm
December 26, 27, 28, 29, 30 at 7:30pm
Featuring David Saffert and Jillian Snow Harris
ABOUT THE PRODUCTION
This holiday season, gather around the piano and raise a cup of holiday cheer with two of the biggest personalities in show business – Liberace and Liza Minnelli! In a dazzling display of sequins and song, Liberace (David Saffert) and Liza (Jillian Snow Harris) invite you to share in the gaudy gifts of virtuosic piano medleys, holly jolly song sing-a-longs, and an ever-rotating cast of popular Portland personalities. Harkening back to the days of classic variety shows and televised Christmas specials, this heartwarming homage is sure to put the whole family in the holiday spirit.