From our sponsors: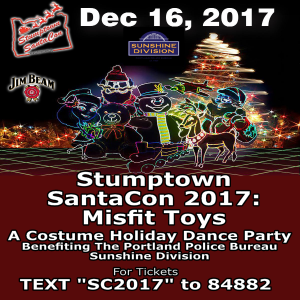 Stumptown SantaCon
December 16, 2017
3 p.m.-11 p.m. | $10 ADV | 21+
Advance Wristbands: eventbrite.com
Splash Bar
904 NW Couch St, Portland, OR 97209
Come one come all and join our moving costume dance party, now in it's 5th year! Our theme this year is "Island of Misfit Toys" so dress up in your favorite Holiday costume and help us light up the Holidays! We start at Splash Bar and converging of the NW Entertainment district for a massive celebration including fire pits, DJ's and fun.
This is a charity event and proceeds from our party will go to our featured charity: the Portland Police Sunshine Division.
Wristbands for the event will indicate you are part of the party and our participating venues will waive cover charges and fees for entry until 9:30 PM (some location times will vary, some will honor cover until 11:30).
ADVANCED ONLY ticket sales are $10 order online.
Wristbands will also be available the day of the event at Splash Bar, The Paris Theater and the Barrel Room and the mainstage.
This is a 21 + event. With a free dance party in the street.
–
READ ALL THE DETAILS! KEEP READING! SANTA! READ!
Stumptown Events Inc., a 501(c)(3) Oregon non-profit organization, hosts participant driven, costume themed progressive street theater events that promote local charities.
This year, Santas are being asked to only enter venues on the approved Stumptown SantaCon list. Some venues don't want the crowds who chase away regulars.
STUMPTOWN SANTACON SCHEDULE: SUBJECT TO CHANGE
We are working on confirming our venues now. We currently have 21 venues on our list!
Wristbands are ONLY available ONLINE this year!!
Santacon Wristbands will be available for pickup at Splash Bar, Paris Theater and the Barrel Room, the Main Stage at NW 3rd and Couch St. and other locations throughout Stumptown SantaCon 2017. Proceeds of this year's event will go to Stumptown Events and the Portland Sunshine Division.
Survival Tips:
Get a good costume
Buy your Wristband ONLINE.
Watch out for cars.
Be seen / Be illuminated – add something glowy to your costume.
Pack Light: Festival belt / holster / Utility belt if you have to set it down you might lose it.
Wear comfortable shoes
Pace yourself. Know your limits. Remember to hydrate and eat!
Stay on the sidewalk.
Use the Buddy System – party with friends.
Bring Cash to pay your tab – Don't use credit cards.
Remember to tip.
Event Rules:
*Buy your Wristband ONLINE.
Pace yourself – drink responsibly – don't drink and drive!
Keep an eye on your drink – don't set it down.
Be respectful / be kind
Costumes are not consent – don't touch without permission.
Obey the police / follow the law.
Drink in the venues hosting us – please leave the flask at home
Walk between STOPS it's only a couple of blocks.
PHOTOS
We encourage our attendees to take photos and share them with each other and us. With that, we ask that all attendees be respectful to each other when sharing online.
By attending this event, you grant to Stumptown Events Inc., its representatives and employees the right to take photographs of you and your property in connection with the above-identified subject. You authorize Stumptown Events Inc., its assigns and transferees to copyright, use and publish the same in print and/or electronically.
You further agree that Stumptown Events Inc. may use such photographs with or without your name and for any lawful purpose, including for example such purposes as publicity, illustration, advertising, and Web content.