From our sponsors: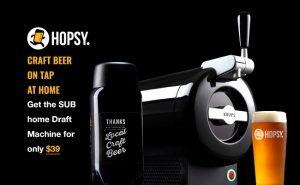 Pour Craft Beers Right At Home w/ Hopsy SUB!
Get the SUB (regularly $149) for only $39 w/ code SUBCLUBPDX at sd.hopsy.beer
Sure, everyone loves Hopsy's growler delivery service – and why not? Fresh craft beer delivered straight to your door? Yes Please! Now it gets even better – just in time for the holidays Hopsy is introducing The SUB – their counter-top, plug and play draft machine for the home. That's right you can now get fresh craft beer…on tap..AT HOME!
Here's how it works: Hopsy partners with the same amazing craft breweries to fill 64oz mini-kegs. The mini-kegs pop into SUB and boom fresh craft beer. You can just go online and order them to be delivered cold..straight to your home.
Hopsy is partnering with PDX Pipeline to create an amazing holiday deal just for our readers. Now you can get the SUB (regularly $149) for only $39. When you join the monthly Hopsy beer club – you save $110 on the SUB home draft machine.
Hopsy offers a 100% Satisfaction Money Back Guarantee – so if you don't like it just send it back. Make that special beer lover in your life
the happiest person earth
 and 
get started
 with Hopsy today!