From our sponsors: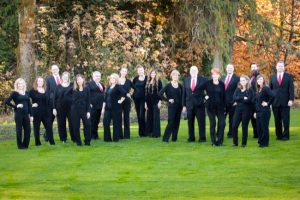 CANTICO SINGERS – Celebrating 10 Years of Holiday Music
December 15, 2017
7:30 p.m. | All Ages
Doors General $15, Premium $19
More info: canticosingers.org
Tickets: brownpapertickets.com
First Baptist Church
909 SW 11th Ave, Portland, OR 97205
Cántico Singers brings their beautiful choral sounds back for another wonderful Christmas season. Now in its tenth year, Cántico Singers combines an array of select local talent with an eclectic mix of programming. While rooted in the classical tradition, this 20-voice vocal ensemble performs a wide-ranging repertoire including classical, jazz, Broadway, and acoustic folk rock. We mix the familiar with the unusual, the popular with the ancient, the profound with light-hearted into a fast-paced concert for choral fan and newcomer alike.
Performing a variety of songs from classics such as "Santa Claus Is Comin To Town" (the Bruce Springsteen version), "We Need A Little Christmas" and "Still, Still, Still" to contemporary pieces like "Sweet Little Jesus Boy" the whole family will find something to enjoy. For the sophisticated choral music lover you won't want to miss the gorgeous "Salve Regina" by Fancis Poulenc, or "Ubi Caritas" by Paul Mealor, just to name a few. Plus, we're excited to have special guests join us from Bridgetown Sound!
Come join us for an evening of incredible music and fun. You're sure to hear something familiar and moving at this festive concert. See you there!
Held at the First Baptist Church in downtown Portland, with its historic setting, classic stained glass windows and rich acoustics, this venue provides an incredible space for listening to live choral singers. Located a few blocks west of the Arlene Schnitzer Concert Hall close to many of Portland's great restaurants and ample parking, perfect for a date night.