From our sponsors: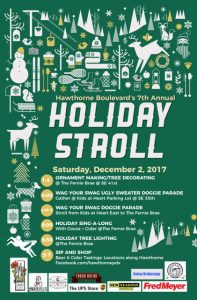 Hawthorne Boulevard Holiday Stroll
December 2, 2017
1-7 p.m. | Free | All Ages
More info: hawthornepdx.com
The Hawthorne Boulevard will be filled with holiday cheer on Saturday, December 2 from 1-7 PM as it celebrates its Seventh Annual Holiday Stroll.
The Hawthorne Boulevard will be lit up with festive decorations and businesses will be offering additional incentives for shopping on this day. Through a grant from Venture Portland, the HBBA created a Holiday Gift Guide with lots of ideas, listing of events, and discounts taking place on Saturday. Copies will be made available throughThursday's Portland Mercury or can be picked up at participating locations.
Here's a list of the day's events:
1-4 PM Ornament Making/Free Decorating at The Fernie Brae at SE 41st
4  PM Wag your swag ugly sweater doggie parade. Gather at Kids at Heart Parking Lot at SE 35th
4:30-5 PM Wag your swag doggie parade. Stroll from Kids at Heart heading East to the Fernie Brae
5  PM Holiday Sing-A-Long with Cocoa and Cider at The Fernie Brae
5:30 PM Holiday Tree Lighting outside The Fernie Brae
4-7 PM Sip and Shop. Beer, wine and cider tasting at the following Six (6) establishments:
Bazi Bierbrasserie – 1522 SE 32nd Ave
Wines by Southern Glazer's and beers by Leikam Brewing
Metro Boutique – 3525 SE Hawthorne
New Belgium beer tasting
A.ell atelier – 3539 SE Hawthorne
Portland Ciders tasting
Woof + Meow – 3562 SE Hawthorne
2 Towns Cider and Elysian beer tasting
New Season's Market – 4034 SE Hawthorne
pFriem Family Brewers beer tasting
The Fernie Brae – 4035 SE Hawthorne
Paulaner and Hacker Schorr beer tasting
The Hawthorne Holiday Stroll is brought to you by the following sponsors and volunteers: HBBA Member Dues, Venture Portland grant, Aetna Brokerage, Fred Meyer, Jam on Hawthorne, New Season's, Roosevelt's Terraniums, Seahorses, The UPS Store, Tabor Bread.