From our sponsors: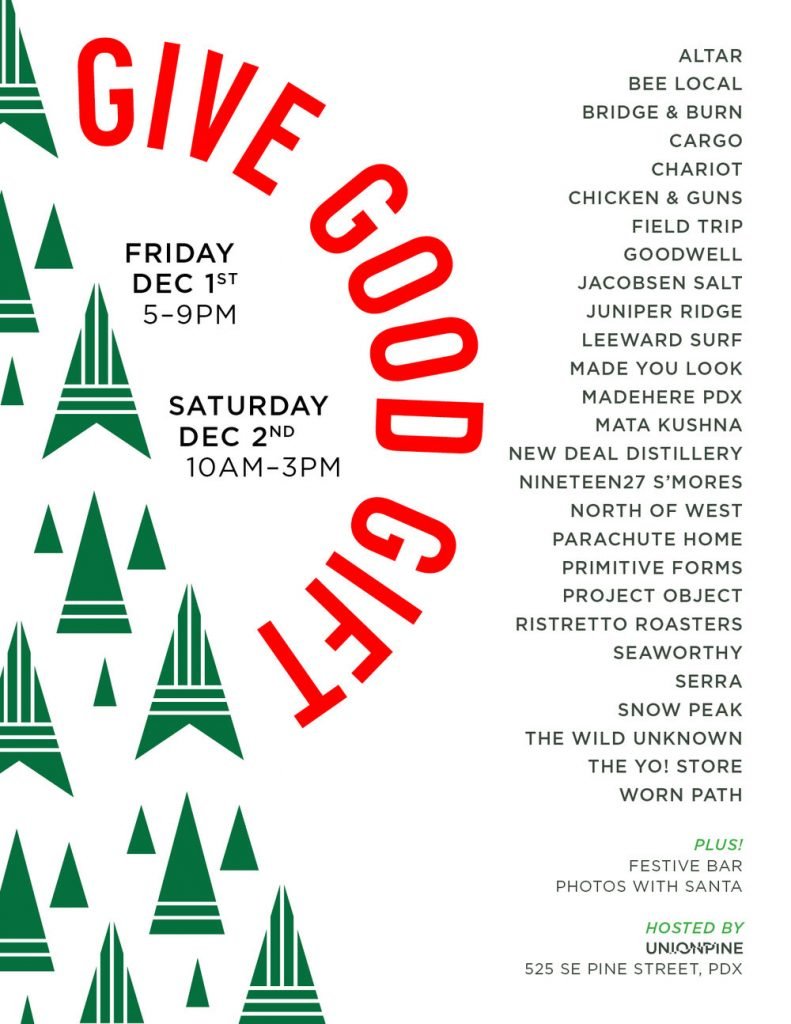 Give Good Gift Holiday Pop Up
December 1-2, 2017
Friday 5-9 p.m. | Saturday 10 a.m. – 3 p.m.
Free | All Ages
More info: givegoodgiftpdx.com
Union/Pine
525 SE Pine St, Portland OR 97214
Holiday season is nearing in all its gift-giving glory, and along with it comes the annual go-to pop up, Give Good Gift. Join over 20 of Portland's favorite stores, designers, and artisans for this year's two day affair, Friday December 1st from 5pm to 9pm & Saturday December 2nd from 10am to 3pm at Union/Pine. Make a day of it as you take in a live aromatic distilling by Juniper Ridge, snap a photo with Santa Claus in the DaBooth photobooth, and check all those names off the 'nice list', all while you enjoy a cup of Ristretto Coffee or a festive cocktail!
We're spicing up this year's vendor list with a rad mix of newcomers and regulars, starting with a fantastic array of curated clothing lines and shops for him and for her from Altar, Bridge & Burn, Leeward Surf, Snow Peak, and Yo Store.
The always classic gift of jewelry will be represented by Primitive Forms, Seaworthy and some deliciously wild scents by Juniper Ridge and the THC-loving Mata Kushna. Project Object will save the day with all design-forward goods from jewelry to zines with all the lovely women in mind.
Iconic brick and mortars will help to outfit every home – Parachute, Chariot, North of West, Field Trip, and MadeHere PDX. Kitchen-lovers are set with the perfect staples Bee Local, Jacobsen Salt, and Olympic Provisions, and you can take in some piping hot Chicken & Guns while you're at it. To make every day food dreams come true at home, snag a copy of the fresh-off-the-press Cooking Up Trouble, which donates all proceeds to Planned Parenthood.
Specialty packages to remember will fill in all those holes as we welcome The Wild Unknown, Serra's tasty edibles and cannabis accompaniments, personal care by Goodwell, and kiddo toys by Made You Look, while Cargo will inspire you to stuff every possible stocking with colorful and unique imported treats.
We are so honored to host this crew of talented folks, and hope you can come celebrate another year with us.