From our sponsors: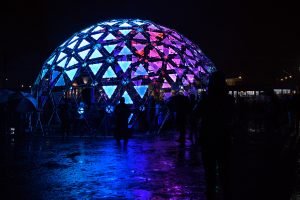 Give Through November w/ Portland Winter Light Festival
Donate today at pdxwlf.com/support
The Portland Winter Light Festival is committed to free, accessible art for all.
In 2017, the Portland Winter Light Festival hosted over 40,000 attendees and transformed our city into a tapestry of light and color during the darkest time of the year. The festival remains 100% FREE to the public in 2018; to honor this dream, we need your help!
As a nonprofit 501(c)(3) organization, our success is completely dependent on the generous support of our community. Your donation is tax deductible, and helps ensure that the festival will continue to thrill and inspire.
very (tax-deductible) donation helps!
As an exclusive offer, for the rest of this month — until 11:59pm PST on Thursday, November 30th — we are offering the following incentives (below, in parentheses) to our donors.
$5 funds lighting for one info booth
(this donation gets you a sticker!*)
$20 provides hand warmers for our hardworking volunteers
(donors at this level receive 4 stickers!)
$150 feeds artists working hard to set up their sculptures for opening night
(donors at this level receive PWLF flasks!*)
$250 pays for one performance of Stories Around the Fire
(donors at this level receive 2 tickets to our VIP party in January, date TBA)
$500 covers permits and staffing for the 2nd Annual Lantern Parade
(donors at this level receive all incentives above and a copy of our 2018 catalog signed by Artistic Director Chris Herring)
$1,000 enlivens Portland's waterfront with a full night of fire performances
(donors at this level receive all of the above and a private tour of the festival for 2 people with Artistic Director Chris Herring)
* limited stickers & flasks available. Offer valid while supplies last!
Other Ways to Support!
Consider setting up a One-Time or Sustainable Monthly Donation. Even $5/month helps the Willamette Light Brigade & Portland Winter Light Festival immensely in demonstrating continued community support for our festival, which makes us more eligible for grants and funding moving forward.
Volunteer for PWLF! There are opportunities in 2017 (brochure distribution, community outreach) and also many roles leading up to and during the festival itself (February 1-3). Get involved by filling out our application.
Sponsorship opportunities available! Joining the Portland Winter Light Festival as a Sponsor provides an outstanding opportunity to build stronger community ties, promote your organization, and be intimately associated with one of Portland's most unique & talked about events. Download our Sponsorship deck here.