We are giving away a pair of tickets to Charles Dickens Writes A Christmas Carol @ The Vault Theatre on December 1. To win, comment on this post why you'd like to attend. Winner will be drawn and emailed Monday, November 27.
———————————————
From our sponsors: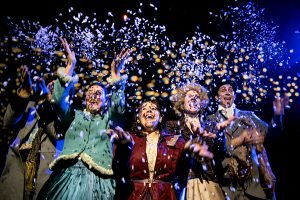 Charles Dickens Writes A Christmas Carol
November 30-December 23, 2017
Thursdays – Sundays @ Various Times
$32 General, Student / Senior $27
More info: bagnbaggage.org
The Vault Theater
350 E Main Street, Hillsboro, Oregon
Christmas Carol has delighted millions in a dizzying array of formats: movies, plays, musicals, cartoons, and more. But what many people do NOT know about Dickens' "Ghostly little book" is the origin story: how did one of England's most prolific writers ever come up with the idea for Scrooge, Cratchit, and Tiny Tim in the first place?
Bag&Baggage Productions, Hillsboro's resident professional company, is proud to present a remount of the most successful show in the company's history this holiday season; Charles Dickens Writes A Christmas Carol. The play, adapted by B&B's Artistic Director Scott Palmer, asks the question, "How? How did Dickens come up with the story of A Christmas Carol?" Dickens himself takes center stage in the production, which is set in the author's study on Christmas Eve when the characters in the story literally come to life to argue, cajole, and plead with Dickens on how best to tell the tale.
The inspiration for B&B's treatment of A Christmas Carol comes from Dickens' own diary entries about the novella; in his diary, Dickens writes that the idea for the story gripped him so powerfully that he "wept over it, laughed, and wept again" and, as John Forster (Dickens' biographer) notes, "excited himself to an extraordinary degree." Dickens says that he locked himself in his study and would not admit his friends, who could hear him inside "speaking aloud, as if to the characters in the story."
"When I read that about Dickens, I immediately wanted to be a fly on the wall of his study," says Scott Palmer, B&B's Founding Artistic Director, who adapted and directs Charles Dickens Writes A Christmas Carol. "How amazing would it have been to watch Dickens himself weeping, laughing, and carrying on as he created Scrooge, Bob Cratchit, and the rest? I knew I had to try and imagine that for myself, and our audiences."
"We describe the show as heart on a schtick," says Palmer, who directs the production in B&B's new home, The Vault Theater. "It is a very funny, but also very heartwarming, version of the classic tale. Having Dickens as a character in the play adds incredible new opportunities and levels to the story as well."
Previous productions of the play were hailed by critics as "tongue-in-cheek," "exceptional," and "brings humor and delightful new life to scenes that have become mere wintery routine."
Starring B&B Resident Actor Peter Schuyler as Dickens and Kymberli Colbourne as Scrooge, the production also features a cast of B&B favorites, including Andrew Beck, Jessi Walters, Jessica Geffen, Joey Copsey, and Morgan Cox. "With this stellar cast of B&B artists, this show is likely to be an instant audience favorite," said Palmer.
Charles Dickens Writes A Christmas Carol opens on Thursday November 30th with a "Pay What You Will" preview, with the official opening night on Friday, December 1st. Performances run Thursday, Friday, Saturday, and Sunday until December 23rd, 2017 at The Vault Theater, located at 350 E Main Street in downtown Hillsboro. Tickets and more information can be found online at bagnbaggage.org or by calling the box office at 503 345 9590.