From our sponsors: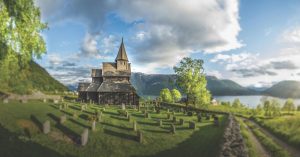 Arctic Light II: Northern Exposure
November 19, 2017
3 p.m. | $22 – $49 | All Ages
More info: events.marylhurst.edu
St. Anne's Chapel, Marylhurst University
17600 Pacific Highway (Hwy 43), Marylhurst, OR 97036
The Marylhurst Chamber Choir will share the stage with Cappella Romana, the Northwest's internationally renowned professional choir.
For this concert, Finnish choral director Timo Nuoranne directs glimmering sacred works from Finland, Estonia, Norway, Sweden and Denmark, including selections from Cappella Romana's celebrated recording Arctic Light.
The Marylhurst Chamber Choir competed at the Cork International Choir Festival in Cork, Ireland, winning two trophies in 2016. Marylhurst's choir placed third in the competition for the festival's biggest prize, the Fleischmann International Trophy, and they were also honored with the PEACE Trophy, awarded to the choir that best embraces the spirit of the festival.
Cappella Romana is a professional vocal ensemble that performs early and contemporary sacred classical music in the Christian traditions of East and West. The ensemble is known especially for its presentations and recordings of medieval Byzantine chant (the Eastern sibling of Gregorian chant), Greek and Russian Orthodox choral works, and other sacred music that expresses the historic traditions of a unified Christian inheritance. Cappella Romana brings to life music that meets a deep human need, not only to belong and to have a shared creative experience, but to feel the full range of ethical, emotional, and spiritual effect as expressed through music.