We are giving away a pair of tickets to BackFence PDX Mainstage: Knife @ Alberta Rose Theatre on November 16. To win, comment on this post why you'd like to attend. Winner will be drawn and emailed Wednesday, November 15.
———————————————
From our sponsors: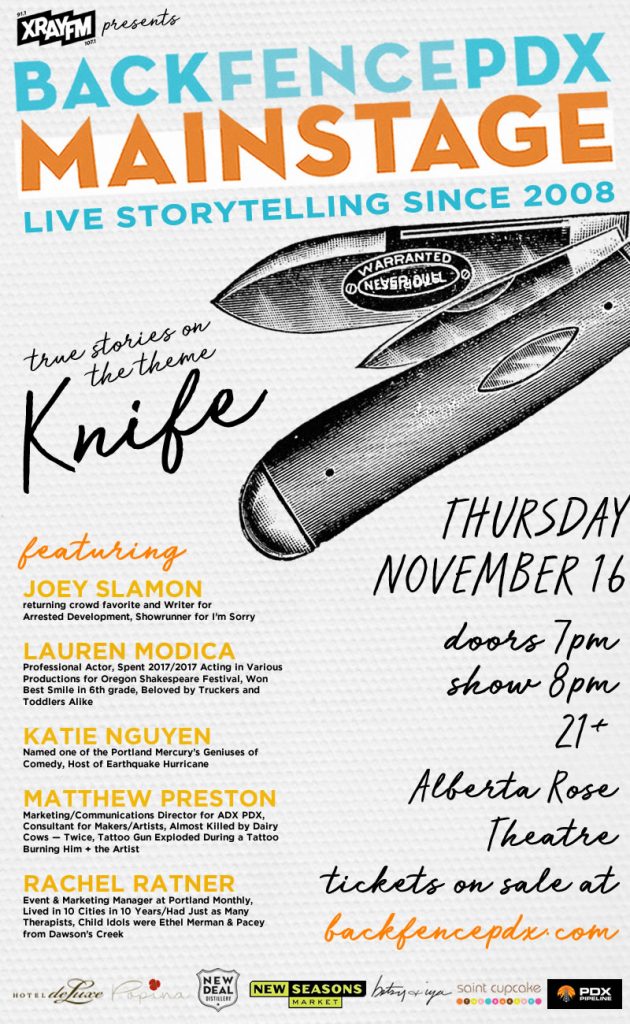 BackFence PDX: Mainstage – Knife
November 16, 2017
21+ | 7 p.m. Doors, 8 p.m. Show | $16-$28
More info: tinyurl.com/y8z2f3lc
Use code: STORYLOVE at backfencepdx.com for $10 tickets through Midnight November 14!
Alberta Rose Theatre
3000 NE Alberta Street, Portland, OR 97211
​Live​ ​storytelling.​ ​No​ ​lies.​ ​No​ ​notes.​ ​No​ ​memorization.
Five​ ​people​ ​telling​ ​true​ ​never-been-told​ ​stories​ ​based​ ​on​ ​the​ ​the​ ​them​ ​KNIFE.​ ​Stories​ ​that​ ​get​ ​under your​ ​skin.​ ​YES!​ ​Funny,​ ​poignant,​ ​revealing​ ​stories​ ​about​ ​going​ ​under​ ​the​ ​knife,​ ​knife​ ​cuts​ ​both​ ​ways,​ ​the​ ​air​ ​was​ ​so thick​ ​you​ ​could​ ​slice​ ​it​ ​with​ ​a​ ​knife,​ ​culinary​ ​mayhem,​ ​anyway​ ​you​ ​slice​ ​it​ ​this​ ​is​ ​gonna​ ​round​ ​out​ ​the​ ​year​ ​quite nicely.
Storytellers​ ​include:
FEATURING* returning crowd favorite Writer for Arrested Development, Showrunner for I'm Sorry JOEY SLAMON, Professional Actor, Spent 2017/2017 Acting in Various Productions for Oregon Shakespeare Festival/Will be Returning Next Season, Won Best Smile in 6th grade, Beloved by Truckers and Toddlers Alike LAUREN MODICA, named one of the Portland Mercury's Geniuses of Comedy, Host of Earthquake Hurricane KATIE NGUYEN, Marketing/Communications Director for ADX PDX, Consultant for Makers/Artists, Almost Killed by Dairy Cows — Twice, Tattoo Gun Exploded During a Tattoo Burning Him and the Artist MATTHEW PRESTON, and Event & Marketing Manager at Portland Monthly, Lived in 10 Cities in 10 Years/Had Just as Many Therapists, Child Idols were Ethel Merman & Pacey from Dawson's Creek RACHEL RATNER!
Plus,​ ​our​ ​audience​ ​lightning​ ​round!
For​ ​this​ ​show​ ​a​ ​portion​ ​of​ ​ticket​ ​proceeds​ ​will​ ​go​ ​to​ ​the​ ​​Oregon​ ​Food​ ​Bank​.​ ​The​ ​Oregon​ ​Food​ ​Bank​ ​distributes​ ​food through​ ​a​ ​Statewide​ ​Network​ ​of​ ​21​ ​Regional​ ​Food​ ​Banks​ ​and​ ​approximately​ ​970​ ​partner​ ​agencies​ ​in​ ​Oregon​ ​&​ ​Clark County.​ ​Their​ ​mission:​ ​To​ ​eliminate​ ​hunger​ ​and​ ​its​ ​root​ ​causes…​ ​because​ ​no​ ​one​ ​should​ ​be​ ​hungry.
Hosted​ ​by​ ​​B.​ ​FRAYN​ ​MASTERS​ ​​with​ ​announce​r​ ​KATIE​ ​PIATT
Music​ ​by​​ ​BOBBY​ ​D​ ​from​ ​XRAY
*Storytellers subject to change without notice. Stories may contain explicit language and/or subject matter.