From our sponsors: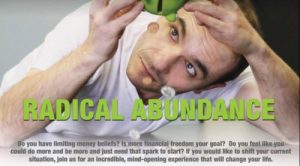 Radical Abundance with Bob Wheeler & Jody Holmes
November 17-19, 2017
Introduction Evening Friday: 7-9:30pm
Saturday & Sunday Workshops: 10am – 5pm
Intro evening $25 (Early bird discount $20)
Intro + workshop $295 (Early bird discount $250)
More info: moneynerve.com
SomaSpace
4050 NE Broadway Street, Portland, Oregon, USA 97232
Do you have limiting money beliefs? Is more financial freedom your goal? Do you feel like you could do more and be more and just need that spark to start? If you would like to shift your current situation, join us for an incredible, mind-opening experience that will change your life.
Radical Abundance is an interactive workshop designed to balance limiting beliefs and habits. You will be given proven techniques and tools to lay down a new foundation many people are unaware of. It's time to transform your life. You can achieve personal, professional and financial success. Live a life of abundance and security, starting right now!