From our sponsors: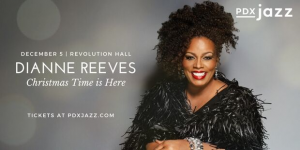 Dianne Reeves: Christmas Time Is Here
December 5, 2017
Doors: 6:30 PM, Show: 7:30 PM | All ages
Tier 1 $65, Tier 2 $55, Tier 3 $45, Tier 4 $35
Tickets: ticketfly.com
Revolution Hall
1300 SE Stark Street, Portland, OR
Dianne Reeves' Grammy® history tells it all. Reeves has won the Grammy ®-Award for Best Vocal Jazz Performance for three consecutive recordings and is the first to do this in any vocal category. Her unmistakable vocal prowess, improvisational virtuosity, and vocal style has led her to record and perform with the likes of Wynton Marsalis and the Lincoln Center Jazz Orchestra, the Chicago Symphony, the Berlin Philharmonic, and has become the first creative chair for the Los Angeles Philharmonic.
Her latest album, Beautiful Life, which was the latest to win a Grammy, only furthers Reeves' influence on vocal jazz and cements her legacy in the genre. Reeves was a big hit at the 2016 Biamp PDX Jazz Festival, and now she returns for a special holiday music program, re-imagining Christmas songs in her own inimitable style. "Not only does she nail all the things that define great jazz singers, but she also expands the idea of what a jazz vocalist is."– NPR