From our sponsors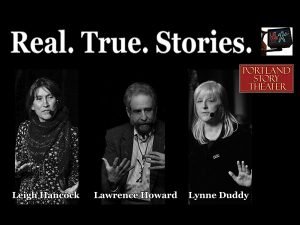 PDX Story Theater at Lit Crawl 2017
November 10, 2017
6-6:45 p.m. | Free
More info: Facebook
Art Bar & Bistro
1111 SW Broadway, Portland, Oregon 97205
In partnership with Literary Arts, Portland Story Theater is part of Lit Crawl® Portland. #LitCrawlPDX #WordstockPDX
LEIGH HANCOCK joins Portland Story Theater Founders LYNNE DUDDY and LAWRENCE HOWARD in sharing their real, true stories.
Support the literary arts in your community. Join Us!
If the idea that personal story breaks down barriers and reveals the commonality of the human experience resonates with you, then don't miss this live storytelling experience at The Newmark Theatre's Art Bar & Bistro!
WE BELIEVE …
EVERYONE HAS A STORY TO TELL
Be heard. Honor your emotional truth. Discover your self through story. Discover your history.
LISTENING BUILDS CONNECTION
Be open. People are transformed by being heard. Listen openheartedly.
STORY BREAKS DOWN BARRIERS
Be vulnerable. Tell your story. Authentically. Honestly. Sincerely.
WE ARE IN A REVOLUTION
Be a part of the change. Story illuminates the universal through the personal. Story awakens our consciousness. Story helps us recognize that we are one race, the human race.
BELIEVE ACT TRANSFORM
Portland Story Theater is a 501(c)3 non-profit organization which strives to make the narrative arts an integral part of Pacific Northwest's rich cultural identity. Founded in 2004, the organization is committed to bringing an authentic story and theater experience to enrich, inspire, challenge and expand connection within the urban environment through the narrative arts