From our sponsors: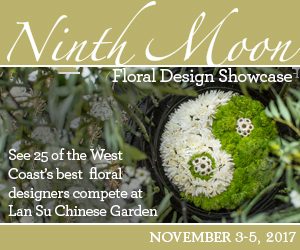 Ninth Moon Floral Design Showcase
November 3-5, 2017
10 a.m. – 4 p.m. | Free w/ Garden Admission, General $10, Student $7, Senior $9 | All Ages
More info: lansugarden.org/ninthmoon
Lan Su Chinese Garden
239 NW Everett St., Portland, OR 97209
The Ninth Moon Floral Design Showcase is presented by the Lan Su Chinese Garden and the Floral Design Institute and occurs in conjunction with Mumvember, an annual celebration of the chrysanthemum.
The Ninth Moon Floral Design Showcase is a juried floral show with each entry including chrysanthemums as a part of the display. Designers will use floral design styles and forms that utilize fresh floral materials and foliage in their entry. The exhibition is designed to celebrate the beauty and significance of chrysanthemums and recognize the floral art and creative talent of floral designers in the Pacific Northwest.
The event is free with admission or membership to the garden.