From our sponsors: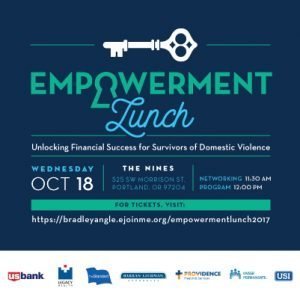 Empowerment Lunch
October 18, 2017
11:30 a.m. | $100
Tickets: bradleyangle.org
The Nines
525 SW Morrison St., Portland
Bradley Angle's annual Empowerment Lunch raises funds to help domestic violence survivors gain financial literacy. Through their generosity, guests will support programs that help survivors rebuild their lives by gaining financial stability and independence. Guests will learn more about how our community can help survivors in the workplace, enjoy high energy entertainment from Poison Waters, one of Portland's most notable drag queens, and bid on fabulous prizes.
Bradley Angle encourages folks to talk to their employers about Employee Matching Gifts before the event. These are oftentimes dollar-for-dollar, but some companies will give double or even triple the original donation. The program allows companies to give back to the community and specifically to the organizations their employees support. Everyone wins!
There are a few tickets remaining, get yours today: https://bradleyangle.org/events/
Bradley Angle is grateful to have generous Empowerment Lunch sponsors. This year's sponsors include: Barran Liebman, Kaiser Permanente, Legacy Health, Providence Health & Services, The Standard, US Bank, and USI.