From our sponsors: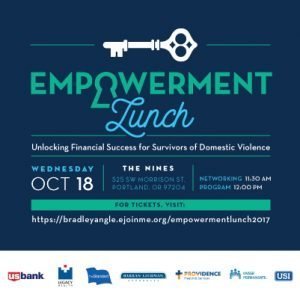 Empowerment Lunch
October 18, 2017
11:30 a.m. | $100
Tickets: bradleyangle.org
The Nines
525 SW Morrison St., Portland
Bradley Angle's annual Empowerment Lunch raises funds to help domestic violence survivors gain financial literacy. Through their generosity, guests will support programs that help survivors rebuild their lives by gaining financial stability and independence.
Kenyatta Trice, Bradley Angle's Economic Empowerment Program Coordinator, will speak at the Empowerment Lunch! Economic abuse affects most, if not all, survivors of domestic violence. Kenyatta will talk about how domestic violence can affect someone's financial future, what resources are available for survivors, and the impact of Bradley Angle's Economic Empowerment programs.
Folks are encouraged to join colleagues and friends at this entertaining lunch hosted by Poison Waters, one of Portland's most notable drag queens.
Bradley Angle is grateful to have generous Empowerment Lunch sponsors. This year's sponsors include: Barran Liebman, Kaiser Permanente, Legacy Health, Providence Health & Services, The Standard, US Bank, and USI.
See https://bradleyangle.org/events/ for tickets and more information.