Are you on Instagram? We are giving away a 4-pack of tickets to Marvel Universe LIVE! Age of Heroes on September 22! To enter, go here: https://www.pdxpipeline.com/marvel/
—————————-
From our sponsors: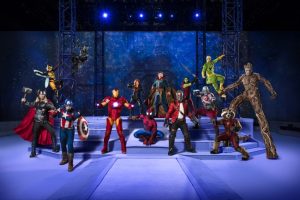 Marvel Universe Live!
September 22-24, 2017
Friday 7 p.m.
Saturday 11 a.m., 3 p.m., 7 p.m.
Sunday 1 p.m., 5 p.m.
All Ages | Starts at $20
More info: marveluniverselive.com
Moda Center
One Center Court, Portland, OR 97227
Super hero action, thrills and drama will soar, smash and burst into arenas across the country starting this summer with the debut of the all-new action-packed adventure Marvel Universe LIVE! Age of Heroes. The iconic Marvel Super Heroes Spider-Man and The Avengers are joined by the Guardians of the Galaxy, including Star-Lord, Gamora, Groot, Rocket and Drax, in a legendary battle to defend the universe from evil. The newest production from Feld Entertainment, the world's leading producer of live touring family entertainment, will be playing the Moda Center in Portland from September 22–24, 2017.
"Our tremendously talented creative team and a nearly super human cast, have created a show that brings the grandeur of Marvel to life," said Juliette Feld, producer of Marvel Universe LIVE! "Age of Heroes creates an experience that immerses families in non-stop action, creating movie-style thrills and jaw-dropping stunts that showcase the powers of your favorite Super Heroes right before your eyes."
Called on by Doctor Strange, the Guardians of the Galaxy join Marvel Universe LIVE! Age of Heroes on a momentous crusade against the scheming Nebula who teams up with the conniving and loathsome villains Loki and Green Goblin. The incredible superhuman forces of Iron Man, Thor, Black Panther, Hulk and Black Widow will unite in clashes that pit student against mentor, sister against sister and brother against brother.
Immersive video projection and cutting-edge special effects will captivate and transport audiences across the universe from the fantastical Savage Land to New York City and beyond. Spider-Man and Wasp's dynamic aerial stunts along with Captain America's daring motorcycle skills will be on display in the ultimate race against time to save mankind.
"I'm extremely excited to work on Marvel Universe LIVE! Age of Heroes and bring the talents and powers of these amazing characters with such dimensionality to life," said Marvel's chief creative officer, Joe Quesada. "Audiences will be on the edge of their seat as they witness the outrageous stunts and fight sequences in truly a unique experience that puts fans at the center of the action."