From our sponsors: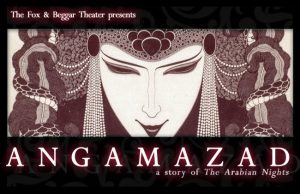 Angamazad
September 22-24, 2017
7pm Doors/ 8pm Curtain | $32 GA, $50 VIP*, Under 12 Free | All Ages
Runtime is approximately 140 minutes + 15 minute intermission.
More info: foxandbeggar.com
The Alberta Abbey
126 NE Alberta St, Portland, Or 97211
The Fox & Beggar Theater invites you to step into the pages of an ancient story book. Here, you will find fairies and djinn. You will find rituals of grieving, and of enduring. You will find mad poets and ancient Shaikhs; circus tricks and magic doors; the ghost dances of dead brides and the desert songs of bird maidens. Above all, you will find a story about love.
Adapted from The 1,001 Arabian Nights, "Angamazad" fuses musical theater, spoken word, acrobatics, contemporary dance, and lavish artwork into a visually and sonically stunning journey. The core inquiry of the piece: how can storytelling help heal the heart of the king…in us all? With stories unfolding from stories, the piece is a contemplation and a vote for the possibility that we each will embody the courage to fully live our own most beauteous tale, one that empowers and frees others, as it liberates our own nature.
Written and Directed by Heather Beckett
*Includes priority seating, complimentary drinks, Angamazad art bag, and entrance to our afterparty.