We're giving away 2 free tickets ($50 value) to our upcoming Dinner Dialogues event on September 21st. Go here to enter —-> https://www.dinner-dialogues.com/pdx-dining
———————————————
From our sponsors: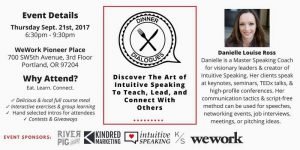 Dinner Dialogues – Discover The Art of Intuitive Speaking To Teach, Lead, & Connect
September 21, 2017
6:30 PM – 9:30 PM | $25 | All Ages
Tickets: eventbrite.com
Enter to WIN TICKETS at dinner-dialogues.com/pdx-dining
WeWork Pioneer Place
700 SW 5th Ave, Portland, Oregon 97204
We host events where growth-minded individuals can connect through meaningful dialogue over great food and drink.
A growth-minded individual:
Loves to learn and grow.
Is ambitious and career-driven.
Challenges themselves and those around them to succeed.
Event Details:
Our guest speaker for the evening is Danielle Louise Ross, founder of Brand You Business and Intuitive Speaking.
Through her program, Intuitive Speaking, she teaches a script-free approach to public speaking.
Learn how to:
Speak with impact, whether you are giving a prepared presentation or speaking spontaneously, and without forcing yourself to use popular scripts or structures that don't work for you.
Remove unnecessary stress and second guessing when speaking, whether you are introducing yourself at a networking meeting, pitching your ideas, interviewing for a job, or contributing in meetings.
Learn to craft a speech without memorization or using a script, whether you're a novice public speaker, or someone who speaks regularly.
Come hungry!
Your ticket includes dinner and drinks (alcoholic and non-alcoholic).
Send us an email at [email protected] if you have dietary restrictions.
There is no dress code; wear whatever is comfortable.
Event Agenda:
6:30pm – 7:00pm — Networking, Dinner, and Refreshments
7:00pm – 7:15pm — Ice Breakers, Group Interaction & Intros
7:15pm – 8:15pm — Danielle Ross, Intuitive Speaking Interactive Group Exercise
8:15pm – 8:30pm — Debrief, Q&A, Closing
8:30pm – 9:30pm — Additional Networking Time
Partnerships and Giveaways!
Event Partnership with Intuitive Speaking Live and Transition Projects:
Transition Projects delivers life-saving and life-changing assistance to some of Portland's most vulnerable residents. Whether by helping a homeless veteran and her family find housing, sheltering hundreds of people each night with nowhere else to turn, or opening new pathways to employment, Transition Projects represents an invaluable part of Portland's social fabric.
What's the partnership?
Intuitive Speaking Live is a two-day event on October 20-21, run by our guest speaker, Danielle Louise Ross.
Danielle will be selling tickets to her event at Dinner Dialogues for a special offer: $97 (1-day pass, two tickets) or $197 (2-day pass, two tickets).
100% proceeds of ticket sales will go to Transition Projects!
Dinner Dialogues is purchasing two 2-day passes and raffling them off, all the while supporting Transition Projects in the process! You can choose to do the same!
Want to win 2 FREE Spa and Fitness day passes to Knot Springs ($130 Value)?
Do you have growth-minded friends?
That's a good start.
We are giving out two all day passes (GOLDEN TICKETS) to Knot Springs to the attendee who brings the most new people to Dinner Dialogues.
The passes include two free hours of spa access and one fitness class!
To Win:
Invite your growth-minded friends who haven't been to an event before.
Tell them to enter your name during the checkout process when buying a ticket on Eventbrite.
Whoever brings the most NEW (never been to a DD event before) faces to the event WINS the 2 GOLDEN TICKETS.
*The attendee only qualifies for you if they enter the name at checkout! It can't be after the fact!*
WeWork Hot Desk Trial for Our Attendees!
Are you looking for a focused energy where you can get sh*t done?
Are you looking for a community of creators to collaborate with and grow from?
All Dinner Dialogues guests will be eligible for aFree Hot Desk Trial Day.
We are grateful to our sponsors and partners for helping make this event possible: WeWork,Kindred Marketing, Knot Springs, Transition Projects, and River Pig Saloon.
*Ticket purchases are non-refundable due to catering and venue costs, thanks for understanding!