From our sponsors: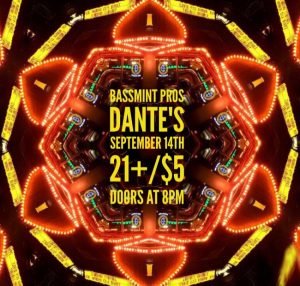 BassMint Pros w/ Vague Choir and guests
September 14, 2017
Doors 8 p.m. Show 9 p.m. | $5 | 21+
More info: ticketweb.com
Dante's
350 West Burnside Street Portland, OR 97209
BassMint Pros are headed to the Northwestern U.S. on this Natural Disaster Tour after finishing a southwestern states tour and a three-month-long video production for their upcoming music video "Lamestream" which will debut in early October, all so far in 2017.
Amidst the massive production of "Lamestream", BassMint Pros recently announced their tour stop in RIP CITY on Sept. 14, 2017 at Dante's located at 350 W Burnside Street in Portland. Doors open at 8:30 p.m. PDT, show starts at 9:30 p.m. PDT. Click here for tickets via Ticketweb.
"After being heavily involved in pre-production and production the last several months, we're ready to get back on the road" said Beatnic Da Diabolick, the brains behind BMP's Utah based Hip-Hop Collective. "We're very excited to get back on stage and are especially excited about playing in Portland, at Dante's."
BassMint Pros have been busy at work the last few years, making several regional tours within the United States including most recently this year's Southwestern States tour and previous years' Southeastern, Northeastern, and Midwestern Tours.  BMP has also put out two 12-inch vinyls (one single and one EP), one LP (CD), 1 tour promo EP (cd), one cassette mix-tape, dozens and dozens of digitally released songs, music videos (including "Lamestream" to be released October 2017), and several sketch-comedy type videos… to attempt to summarize their work over the last few years.