From our sponsors: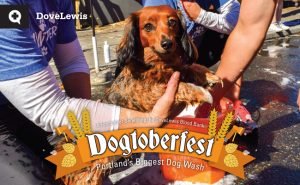 Dogtoberfest
September 16, 2017
11a-5p | Free, Dog wash + nail trim – $20; Dog wash only – $15
All Ages
More info: dovelewis.org/dogtoberfest
Lucky Labrador Brew Pub
915 SE Hawthorne, Portland
On Saturday, Sept. 16, hundreds of dogs and their humans will gather for the 23rd annual Dogtoberfest, Portland's biggest dog wash, in support of the DoveLewis Blood Bank. In addition to dog washes and nail trims, the event – held at the Lucky Labrador Brew Pub on SE Hawthorne – will feature live music, food, a special Dogtoberfest beer and a street fair.
The DoveLewis Blood Bank, the largest volunteer-based animal blood bank in the Pacific Northwest, provides dogs and cats with more than 500 transfusions each year.
"Last year, more than 130 dogs and 30 cats donated blood to save the lives of animals in need. Dogtoberfest is a fun way to support the vital services of our blood bank," said Blood Bank Director Jill Greene.
This year the nonprofit animal hospital has a goal of washing 500 dogs, but that's not the only way people can support the Blood Bank. Attendees are encouraged to bring new plush toys or unopened dog treats, so that the program's "Superhero" blood donors can get a special reward after every donation. The American Red Cross will also be on site for a human blood drive in celebration of the importance of donating to save human lives.
Event highlights:
Dog wash and "pedicure" station
Superhero Toy Drive: Our animal blood donors, known as Superheroes, receive a toy after each donation, making them excited for their next visit. To donate, bring a new toy for a large dog (still in the packaging) to Dogtoberfest. No rope toys, please.
Human blood drive: Save a human life by donating blood with the American Red Cross at Dogtoberfest.
Live music
Lucky Lab's special Dogtoberfest brew, a traditional German-style Märzen
Street fair with pet-friendly vendors
DoveLewis 2018 calendar revealed and available for purchase
Dogtoberfest T-shirts and pint glasses
Paw print art and balloon artist
DoveLewis thanks our generous Dogtoberfest sponsors: Lucky Labrador Brew Pub, Banfield Pet Hospital, US Bank, Delap and 105.9 The Brew.