From our sponsors: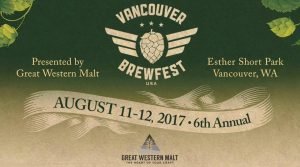 Vancouver Brewfest
August 11-12, 2017
Friday: 4 pm – 9:30 pm
Saturday: Noon – 9 pm
$17-37 | 21+
More info: vancouverbrewfest.com
Esther Short Park
301 N 8th St, Vancouver, Washington 98660
Vancouver's most popular Brewfest is back — and ready for even more visitors.
Last year, more than 6,000 people attended the Vancouver Brewfest. This year, organizers anticipate 6,500 or more plan to enjoy the wide array of beverages, food and entertainment that are the hallmarks of the events. We have condensed the days down to two instead of three due to lack of attendance on Sundays. There will be plenty to do on both Friday and Saturday.
This year we are excited to announce our official brewery this year is Trapdoor Brewery, who will be collaborating their beer with the Vancouver Brewfest Presents Sponsor Great Western Malt.
Vancouver Brewfest will be hosting the first Brewers Keg Toss in Vancouver, WA. This even will be sponsored and emceed by Marks Design and Metalworks. Three winners will be selected and awards will be designed by Marks Design and Metalworks for breweries to showcase. The event will be take place in front of the stage throughout the weekend next to the BELFA Kegs Brewers tent.
The festival will feature 60 Pacific Northwest breweries, cideries and meaderies with more than 120 different drink varieties to choose from. Brewery list is updated on the VacncouverBrewfest.com websites as they register.
HOPS IN COFFEE IS HAPPENING IN THE PNW
It is no news that the coffee and beer scene here in the PNW is huge.
Beer in the past has been embracing the priceless flavors of specialty coffee beans to create stouts, porters, ales and more.
Now it is time for coffee to adopt the sharp, brilliant, complex and aromatic flavors of hops.
The collaboration between award winning companies "Kafiex Roasters" and "Heathen Brewing; simply two of the best in their industry here in the Vancouver WA area is going to be rad.
After some testing and development Kafiex and Heathen are ready for a full product launch of this hopped nitro cold brew.
The launch will take place at the upcoming Vancouver Brewfest; August 11th and 12th.
Hops in coffee is happening in the PNW and you won't want to miss out!