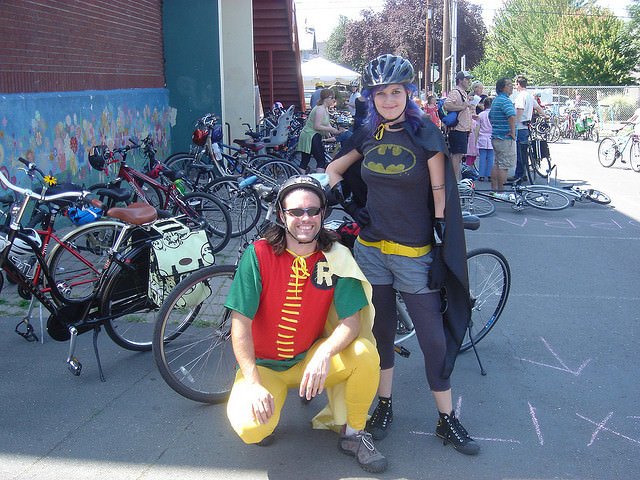 In 2014, 108,900 Portland area residents and visitors participated in Sunday Parkways, allowing them to get out and be active in communities across the city. This year, Sunday Parkways is happy to present five more fun community connecting events.
———————————————
Related Portland Events & Giveaways
———————————————
From website: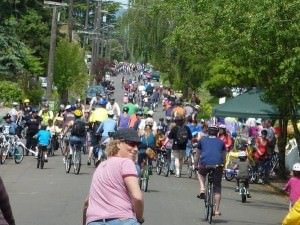 2017 Sunday Parkways
May – October 2017
More info: portlandoregon.gov
The City of Portland Sunday Parkways presented by Kaiser Permanente kicks off its tenth year on May 21, 2017 in Southeast Portland. The 10th summer of celebrating Portland's open streets will finish on September 24, 2017 with the Sellwood/Milwaukie event. Portlanders will have the opportunity to officially wish Sunday Parkways a happy tenth birthday at the North Portland Sunday Parkways on June 25, 2017.
July 23 – NE Portland
The party continues into July with the Northeast Portland Sunday Parkways route! It will be occur on July 23, 2017 from 11 am – 4 pm (8 miles). While you make your way around the Northeast Portland route, don't forget to stop by Woodlawn, Alberta, and Fernhill Parks where a collection of fun activities, festive music, and delicious food that awaits you. Along with our funfilled parks, Sunday Parkways will return to Khunamokwst Park where you find our Bi-lingual Bike Fair held in collaboration with the Andando en Bicicletas en Cully (ABC) Group.
August 20 – Outer NE Portland
Come check out our completely new route in Outer Northeast Portland. This route that begins after Gateway green will bring you home or introduce you to life in the Outer NE. This 6.4 miles route will take you to Knott, Thompson, East Holladay and Hazelwood Hydro Parks. These new parks will be overflowing with music, food, and fun finds. Come see for yourself on August 20, 2017!
September 24 – Milwaukie
Catch it while you can! This year is the last year of the City of Milwaukie and Portland partnership for the Sellwaukie route. Come out and join this 8 mile scenic route on September 24th and end the Sunday Parkways season with a bang!
This route provides four fantastic marketplace locations: Westmoreland, Sellwood, and Water Tower Parks, along with the Milwaukie Farmers Market + Milwaukie Business District. We will once again team up with the Native American Community Advisory Council and the Bureau of Environmental Services (BES) for the Salmon Celebration. It's going to be amazing!
Stop by this event to share in some Sunday Parkways history in the making, and also enjoy the live music, delicious food, and fun that awaits you! To read more about upcoming Sunday Parkways happenings, visit our Newsreel.
————————————
Our Portland Events App for PDX Pipeline is now available for iPhones, Android phones and iPads!
Now, you can have all of the great Portland events from our website in the palm of your hand when you're out on the town.
–————————————
—————————————————–