From our partners: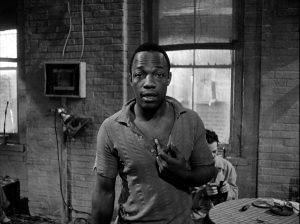 The Connection (1961; Shirley Clarke
July 21-23, 2017
Friday, July 21st & Saturday, July 22nd @ 7:00pm & 9:30pm;
Sunday, July 23rd @ 3:00pm
Admission is FREE for PSU students & faculty w/ID.
$4 for all other students & seniors.
$5 General Admission
More info: 5thavecinema.com
5th Avenue Cinema
510 SW Hall St., Portland, OR
(503) 725–3551
Too many words could spoil the pleasures and surprises that Shirley Clarke offers with The Connection. An adaptation of Jack Gelber's play, with most actors from the stage reprising their roles, a cohort of jazz musicians and junkies agree to serve as the subjects of a film within the film in exchange for heroin.
Stunningly photographed, monologue piles upon monologue as the addicts and filmmakers hang around on dealer time, awaiting their connection. Reflexive and critical of the cinema vérité style filmmaking of her contemporaries, Clarke's film was timely when it was made at the peak of the beat era. However, its initial release was squashed by censorship rulings, and that's the senseless reason we still hear so little about The Connection. Recently restored by UCLA and Milestone Films.
Watch a trailer of the film HERE!
About 5th Avenue Cinema
Oregon's only student run cinema has been operating non-profit since 1989. Our goals are to provide further education for PSU students interested in film, as well as a fun place for people to see something they wouldn't ordinarily get to see on the big screen. The general public is always invited to attend and there is FREE POPCORN at every show. Our feature films are presented on 35mm film, with the occasional screening on our rare Norelco 16mm projector.