From our sponsors: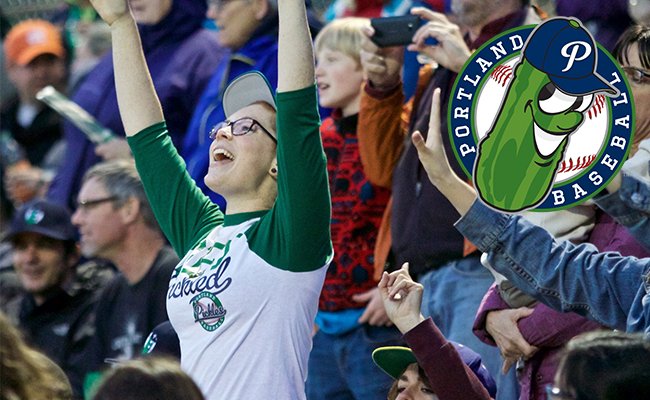 2017 Portland Pickles Baseball
More info: portlandpicklesbaseball.com
Walker Stadium
4601, 4727 SE 92nd Ave, Portland, OR 97266
The Pickles have a bevy of food and drink specials to offer upon their return from a six-game road trip through Northern California.
Portland (16-22) opens a three-game series versus the Lincoln Potters (26-13) on Monday with the fourth of five opportunities for fans to purchase the Burgerville Friends and Family ticket package. The ticket package includes four pavilion area seats to the game against the Potters, four $5-dollar Burgerville gift cards and four Pickles hats for just $39 dollars. The Burgerville Friends and Family ticket package can only be purchased by calling the Pickles' front office at 503-775-3080 and will be offered just once more on July 31.
In game two of the midweek series against Lincoln on Tuesday, the Pickles are going cocktailing, as Deep Eddy Vodka is presenting Ladies Night, offering drink specials. For those who are not in the mood for a cocktail, the Pickles also have $2-dollar specials on beer, soda, water and hot dogs in store as a part of their Two Dollar Tuesday promotion.
To conclude the series against the second-place Potters on Wednesday, the Pickles are again offering their $3-dollar craft beer specials to fans, which will only be available one more time when the Pickles take on the Yuba City Bears on Aug. 2. Wednesday's series finale is also presented by 98.7 The Bull.
Start time for all three games is scheduled for 7:05 p.m. and the gates will open at 6:05 p.m. Visit picklesbaseball.com or call the team's front office at 503-775-3080 to reserve your seats or schedule a group outing. For fans unable to attend the series, tune in to Sunny 1550 on your AM dial or click on the "Listen Live" link at picklesbaseball.com to pick up a live broadcast of the action."
2017 Home Game Schedule
| | | | | | |
| --- | --- | --- | --- | --- | --- |
| | Time | Opponent | Promo | Special | Theme |
| 7- 17 | 7:05pm | Lincoln Potters | Burgerville Friends & Family Deal | | |
| 7- 18 | 7:05pm | Lincoln Potters | Two-Dollar – $2 Beer, Pop, Water, and Hot Dogs | | |
| 7- 19 | 7:05pm | Lincoln Potters | $3 Craft Beers | | |
| 7- 20 | 7:05pm | Chico Heat | Two-Dollar – $2 Beer, Pop, Water, and Hot Dogs | | Ate-Oh-Ate Hawaiian Night |
| 7- 21 | 7:05pm | Chico Heat | | Dillon Bobblehead (2) | Breast Cancer Awareness Night Presented by Compass Oncology |
| 7- 22 | 7:05pm | Chico Heat | | Mystery Bobblehead (3) | Brewfest – Matt Kennon & Bryan White Concert |
| 7- 31 | 7:05pm | Yuba City Bears | Burgerville Friends & Family Deal | | |
| 8- 1 | 7:05pm | Yuba City Bears | Two-Dollar – $2 Beer, Pop, Water, and Hot Dogs | Coca-Cola Baseball Stress Ball | |
| 8- 2 | 7:05pm | Yuba City Bears | $3 Craft Beers | Sayler's Old Country Kitchen Team Photo | |
| 8- 3 | 7:05pm | Medford Rogues | Two-Dollar – $2 Beer, Pop, Water, and Hot Dogs | Seattle Mariners Giveaway | Salute the Seattle Mariners Night |
| 8- 4 | 7:05pm | Medford Rogues | | Adventist Health Hat | |
| 8- 5 | 7:05pm | Medford Rogues | | Reusable Shopping Bag | Fan Night, Fireworks |