From our sponsors: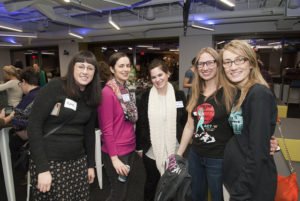 PDX Women in Tech (PDXWIT) Happy Hour Networking Event
July 18, 2017
4:30-6:30 p.m. | Free | All Ages
More info: eventbrite.com
Ruby Receptionists
805 Southwest Broadway #900, Portland, OR 97205
Join us for happy hour at Ruby Receptionists on July 18th.
Here at PDXWIT, networking is at the center of what we do, and since the most important part of networking is leaving an impression, we decided to explore how to leave a lasting one. The conversation starter "How many people do you talk to from your last job," will give you a chance to reflect on the people in your work life who have left an impression on you.
While the event is primarily intended for networking, we will have a short segment at 5:30 to share important announcements and showcase three women in our community.
Introduction to Ruby Receptionists, including what they do and what job opportunities are available.
Janessa Olson, Product Manager at Womply, will talk about leaving things better than you found them.
Kristin Foster, Marketing Campaign Specialist at SellerActive, will tell us how to find out what Google is saying about you.
During the event, we'll have more to do than free-form networking:
An Activity Table where people can get creative. This is a fantastic way to meet others if large groups are not your thing. If you have trouble finding it, look for Meg Aul, our Event Activities Director.
Table Topics to help break the ice.
A section for job seekers and those hiring, to ensure people get connected.
PDXWIT is a community-based non-profit organization. Our purpose is to strengthen the Portland women in tech community by offering educational programs, partnerships, mentorships, resources and opportunities. We are unifying a supportive environment for current and potential women in tech, all of whom are committed to helping each other. Our goal is to bring together and empower women in tech and to encourage others to pursue tech careers. This is our step towards reducing the gender imbalance in the industry and addressing the current negative effects of that imbalance on women.
Trans and non-binary people are always welcome at our events.