From our sponsors: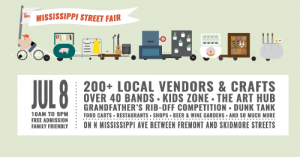 Mississippi Street Fair
July 8, 2017
10 a.m. – 9 p.m. | Free | All Ages
More info: mississippiave.com/streetfair
Location: Mississippi Avenue Between N Fremont & N Skidmore
The 16th Annual Mississippi Street Fair will take place on Saturday, July 8th from 10:00 am to 9:00 pm on Historic Mississippi Avenue between N Fremont and N Skidmore Streets. The Fair includes over 200 local vendors, crafts, dunk tank, Rib-Off competition, open air gallery, kids zone, 5 stages and a ​variety of family friendly activities. Proceeds from the fair benefit the Boise Business Youth Unity Project.
Fair Schedules
Main Schedule of Events
10 am Fair Opens
Noon Announcements on the Main Stage presented by Trailhead Credit Union. Beer Garden Opens (at Shaver) and Ecliptic Beer Garden Opens (at Fremont)
1:00 pm Dunk Tank Opens (at Freemont)
3:00 pm Grandfather's Rib-Off Competition Judging (south of Mississippi Pizza)
5:30 pm Dunk Tank Closes
9:00 pm Fair Closes
Stage Schedules
Main Stage
Presented by Trailhead Credit Union Location: At Shaver St
Noon-12:30 ​Announcements
12:30-1:15 pm ​Snowblind Traveler
1:35-2:20 pm ​NoPo Big Band
2:45-3:45 pm ​Voices Unlimited
4:15-5:20 pm ​Norman Sylvester Band
5:50-6:35 pm ​Moorea Masa
7:00-7:45 pm ​Amenta Abioto
8:15-9:30 pm ​Sallie Ford
Skidmore Stage
Presented by Prost
Location: At Skidmore St
1:20-2:00 pm ​Hops & Honey String Band
2:20-3:00 pm ​Hunter Paye
3:20-4:00 pm ​Robin Bacior
4:20-5:00 pm ​Lenore.
5:20-6:00 pm ​Weezy Ford
6:20-7:10 pm ​Surfer Rosie
7:30-8:30 pm ​Haley Heynderickx
Courtyard Stage
Presented by Mississippi Studios Location: At Bar Bar
12:45-1:30 pm ​The Morals
1:50-2:35 pm ​Forest Veil
2:55-3:40 pm ​The Wild Body
4:00-4:45 pm ​Vinnie Dewayne
5:05-5:50 pm ​Bryson Cone
6:10-6:55 pm ​Ali Muhareb
7:15-8:00 pm ​Cat Hoch
8:20-9:20 pm ​Tango Alpha Tango
Fremont Stage
Presented by Por Que No and Ecliptic Brewing
Location: At Fremont St
12:30-1:30 pm ​Ash Bolt Stewart Band
2:00-3:00 pm ​The Elites
3:00 pm ​Grandfather's Rib-Off Judging
4:00-5:00 pm ​Jamie Leopold & The Short Stories
6:00-8:00 pm ​Big Night Out
Kids Stage
Presented by Mississippi Pizza
Location: At Mississippi Pizza
12:00-12:45 pm ​Lorna Miller
1:15-2:15 pm ​Tallulah's Daddy
2:45-3:45 pm ​Micah & Me
4:00-5:00 pm ​Mr Ben
6:00-7:00 pm ​Bellow's Bridge Celtic Music
Our Sponsors
The Mississippi Street Fair thanks our generous sponsors.
Major Sponsors
Por que no Taqueria – Presenting the Fremont Stage
The Mississippi Pizza Pub
Mississippi Studios and Bar Bar
Prost! – Presenting the Skidmore Stage
Interurban
Trailhead Credit Union – Presenting the Main Stage
Ecliptic Brewing – Presenting the Fremont Stage Beer Garden
Ikea- Presenting the Kids Zone
Fair Sponsors
Whole Foods Market
USBank
Willamette Week
Artslandia R
eBuilding Center
Supporting Sponsors
Paxton Gate
Nectar Cannabis
Stormbreaker Brewing
Victoria Bar
TreeHouse Children's Boutique
Neil Kelly
Fat Head's Brewery
Sloshy Pops
Pedx North
Sloan Boutique
Interstate Special Events
Additional Thank You to:
Kay at Sunlan Lighting
The Rambler
Radar Restaurant
Mr. Green Beans
Salty's Pet Supply
About the Historic Mississippi Business Association
The Mississippi Street Fair is a production of the Historic Mississippi Business Association (HMBA).The mission of the HMBA is to promote, develop, and preserve the North Portland business community as a desirable and vibrant place to work, shop, and live.
About the Boise Business Youth Unity Project
Fostering a stronger & community through internships for teens.
In 2005, a handful of small business owners got together with the aim of fostering inclusivity and neighborhood livability by helping teenagers gain entry into the work world through internships and job shadowing experience. The project that was established — Boise Business and Youth Unity Project (BBYUP pronounced Buy-Up) — connects business and youth in a positive way through summer internships.