From our sponsors: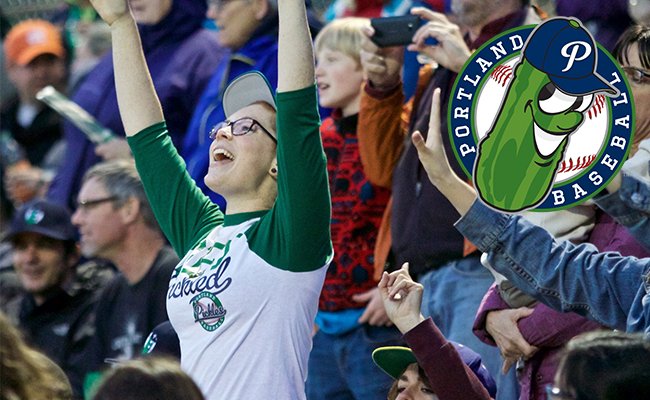 2017 Portland Pickles Baseball
More info: portlandpicklesbaseball.com
Walker Stadium
4601, 4727 SE 92nd Ave, Portland, OR 97266
Last week's homestand saw the Pickles win three games in walk-off fashion, and the team looks to treat fans to more episodes of exciting baseball and fresh promotions when it opens a series against the Yuba City Bears on Monday at Walker Stadium.
The Pickles return to Portland after a three-game series in Chico, California, and they will kick off the first installment of this season's Burgerville Friends and Family ticket package on Monday, which offers fans four pavillion area seats, four $5 dollar Burgerville gift cards and four Pickles hats, a $104-dollar value, for $39 dollars. The Burgerville Friends and Family ticket package is available for every Monday home game on the Pickles' schedule but can only be purchased online at picklesbaseball.com.
In game two of the series against Yuba City on Tuesday, the Pickles are again offering their $2-dollar specials on beer, water, soda and hot dogs. A recurring promotion, the Pickles' "$2 Dollar Day" specials are offered at all Tuesday home games at Walker Stadium.
Wrapping up the three-game set against the Bears on Wednesday, the Pickles have an exciting proposition to debut and another edition of craft beer specials to share. Wednesday's game marks the 2017 season's "Guaranteed Win Night!", which means that every fan in attendance receives a ticket voucher to a future Pickles game if the team loses Wednesday's game to Yuba City. On the food and beverage side of the spectrum, game three of the series features a concourse booth from Ate-Oh-Ate and $3 dollar craft beer specials. The Pickles' $3 dollar craft beer specials are available at each of the Pickles' five Wednesday home games.
First pitch for all three games is set for 7:05 p.m. and gates will open at 6:05 p.m. If you are unable to attend, tune in to Sunny 1550 to listen to Pickles' play-by-play voice Ryne Buchanan's live broadcast of the action. The Pickles also offer a live stream of all 60 games this season at picklesbaseball.com.
2017 Home Game Schedule
| | | | | | |
| --- | --- | --- | --- | --- | --- |
| | Time | Opponent | Promo | Special | Theme |
| | | | | | |
| | | | | | |
| | | | | | |
| 6- 19 | 7:05pm | Yuba City Bears | Burgerville Friends & Family Deal | | |
| 6- 20 | 7:05pm | Yuba City Bears | Two-Dollar – $2 Beer, Pop, Water, and Hot Dogs | | |
| 6- 21 | 7:05pm | Yuba City Bears | $3 Craft Beers | | Guaranteed Win Night |
| 6- 23 | 7:05pm | Lincoln Potters | | A-1 Automotive Beanie | |
| 6- 24 | 7:05pm | Lincoln Potters | | Scarf | Portland Mavericks Night |
| 6- 25 | 5:05pm | Lincoln Potters | Kids Eat Free Brought to you by Adventist Health/Kids Run the Bases Post-Game | Columbia Bank T-shirt | Columbia Bank Cash Scramble |
| 7- 3 | 1:05pm | Perth Heat (International Exhibition Game) | Burgerville Friends & Family Deal | | B-Boy McCoy |
| 7- 4 | 1:05pm | Perth Heat (International Exhibition Game) | Burgerville Friends & Family Deal | | ZOOperStars |
| 7- 3 | 7:05pm | Medford Rogues | | | B-Boy McCoy/ Fireworks |
| 7- 4 | 7:05pm | Medford Rogues | | | ZooperStars /Fireworks |
| 7- 5 | 7:05pm | Medford Rogues | $3 Craft Beers | | |
| 7- 7 | 7:05pm | Marysville Gold Sox | | Lagunitas Dog Collars | Bark at the Park |
| 7- 8 | 7:05pm | Marysville Gold Sox | | Adventist Health Replica Jersey | TBD Entertainment |
| 7- 9 | 5:05pm | Marysville Gold Sox | Kids Eat Free Brought to you by Adventist Health/Kids Run the Bases Post-Game | Coca-Cola Cowbell | Faith & Family Night |
| 7- 17 | 7:05pm | Lincoln Potters | Burgerville Friends & Family Deal | | |
| 7- 18 | 7:05pm | Lincoln Potters | Two-Dollar – $2 Beer, Pop, Water, and Hot Dogs | | |
| 7- 19 | 7:05pm | Lincoln Potters | $3 Craft Beers | | |
| 7- 20 | 7:05pm | Chico Heat | Two-Dollar – $2 Beer, Pop, Water, and Hot Dogs | | Ate-Oh-Ate Hawaiian Night |
| 7- 21 | 7:05pm | Chico Heat | | Dillon Bobblehead (2) | Breast Cancer Awareness Night Presented by Compass Oncology |
| 7- 22 | 7:05pm | Chico Heat | | Mystery Bobblehead (3) | Brewfest – Matt Kennon & Bryan White Concert |
| 7- 31 | 7:05pm | Yuba City Bears | Burgerville Friends & Family Deal | | |
| 8- 1 | 7:05pm | Yuba City Bears | Two-Dollar – $2 Beer, Pop, Water, and Hot Dogs | Coca-Cola Baseball Stress Ball | |
| 8- 2 | 7:05pm | Yuba City Bears | $3 Craft Beers | Sayler's Old Country Kitchen Team Photo | |
| 8- 3 | 7:05pm | Medford Rogues | Two-Dollar – $2 Beer, Pop, Water, and Hot Dogs | Seattle Mariners Giveaway | Salute the Seattle Mariners Night |
| 8- 4 | 7:05pm | Medford Rogues | | Adventist Health Hat | |
| 8- 5 | 7:05pm | Medford Rogues | | Reusable Shopping Bag | Fan Night, Fireworks |