From our sponsors: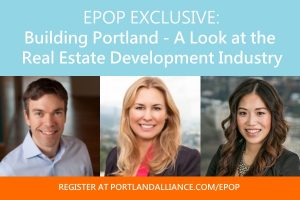 Emerging Professionals of Portland Exclusive:
Building Portland: A Look at Portland's Real Estate Development Industry
June 20, 2017
5-7 p.m. | $25 -$35
More info: weblink.portlandalliance.com
Vestas
1417 NW Everett
Building Conference Room
Portland, OR 97209
Come learn about the booming real estate development industry in Portland and how to you can be a part of this growing job sector.
The EPOP Exclusive event series is geared toward connecting emerging civic and business leaders with established civic and business leaders in the Portland region. EPOP Exclusives feature a moderated yet informal Q & A session with the featured guests as well as an opportunity to network with like-minded young professionals.
Plus, enter for a chance to win a one-on-one mentoring session with a panelist!