From our sponsors: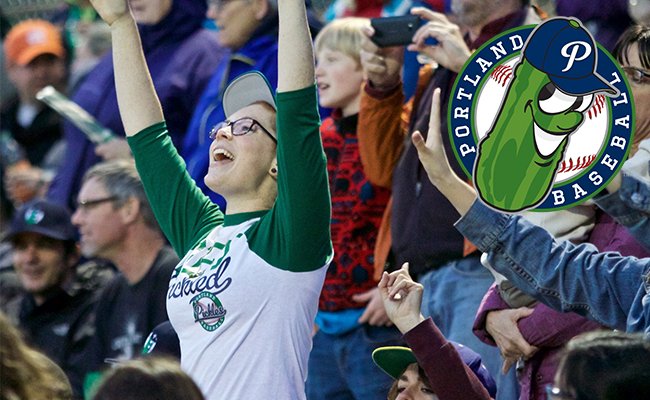 2017 Portland Pickles Baseball
More info: portlandpicklesbaseball.com
Walker Stadium
4601, 4727 SE 92nd Ave, Portland, OR 97266
The Portland Pickles wrap up their first six-game homestand of the year with a series against the Chico Heat from Friday–Sunday, and the team has a number of special promotions and guest appearances lined up for the weekend.
In game one of the three-game series on Friday, fans will be treated to a performance by The Amazing Christopher in between innings. Otherwise known as the "Dancing Puppet Man," Christopher is frequently sought after on the sports entertainment circuit and performs more than 150 shows per year. Christopher's performance is described as "unique and one-of-a-kind" and he has performed for two presidents of the United States and starred alongside the likes of Natalie Cole and George Carlin in his career. Also at Friday's game, the first 800 fans through the gates will receive a Portland Pickles pennant.
When Portland and Chico square off in the second game of the series on Saturday, not only will the team put on the first of two Dillon the Pickle Bobblehead Nights, but minority owner and Seattle Seahawks Punter Jon Ryan will line up opposite a select few fans for Tackle Jon Ryan Night. Ryan joined the Pickles' ownership team on April 5 and he and some of his Seahawks teammates will also participate in a home run derby batting practice before the first pitch.
Before the Pickles conclude the weekend series against the Heat on Sunday, gates will open at 2:15 p.m. and fans can come early to see a Vintage Baseball Game! A re-enactment of the Portland Pioneers, one of the first recorded baseball clubs in Oregon, fans will see them wearing uniforms and using equipment modeled after Civil War era baseball games.
During Sunday evening's game against Chico, the Pickles will don custom Star Wars uniforms and the likes of Darth Vader, Stormtroopers and K-2SO will be in attendance as a part of Star Wars Night. Kids 12 and under will also eat free and have the option to run the bases after the final out of Sunday's game.
First pitch for Friday and Saturday's games is set for 7:05 p.m. and Sunday's game will start at 5:05 p.m. All of the Pickles' games this season can be listened to at Sunny 1550 and will stream live on portlandpicklesbaseball.com.
2017 Home Game Schedule
| | | | | | |
| --- | --- | --- | --- | --- | --- |
| | Time | Opponent | Promo | Special | Theme |
| 6- 6 | 7:05pm | Marysville Gold Sox | | Magnetic Schedule/Radio Cab Seat Cushions | Fireworks |
| 6- 7 | 7:05pm | Marysville Gold Sox | $3 Craft Beers | | |
| 6- 8 | 7:05pm | Marysville Gold Sox | Two-Dollar – $2 Beer, Pop, Water, and Hot Dogs | Twin Peaks Sheriffs Beanie | Twin Peaks Night |
| 6- 9 | 7:05pm | Chico Heat | | Pennant | The Amazing Christopher |
| 6- 10 | 7:05pm | Chico Heat | | Dillon Bobblehead (1) | Tackle Jon Ryan Night |
| 6- 11 | 5:05pm | Chico Heat | Kids Eat Free Brought to you by Adventist Health/Kids Run the Bases Post-Game | Adventist Health Hat | Vintage Baseball Game |
| 6- 19 | 7:05pm | Yuba City Bears | Burgerville Friends & Family Deal | | |
| 6- 20 | 7:05pm | Yuba City Bears | Two-Dollar – $2 Beer, Pop, Water, and Hot Dogs | | |
| 6- 21 | 7:05pm | Yuba City Bears | $3 Craft Beers | | Guaranteed Win Night |
| 6- 23 | 7:05pm | Lincoln Potters | | A-1 Automotive Beanie | |
| 6- 24 | 7:05pm | Lincoln Potters | | Scarf | Portland Mavericks Night |
| 6- 25 | 5:05pm | Lincoln Potters | Kids Eat Free Brought to you by Adventist Health/Kids Run the Bases Post-Game | Columbia Bank T-shirt | Columbia Bank Cash Scramble |
| 7- 3 | 1:05pm | Perth Heat (International Exhibition Game) | Burgerville Friends & Family Deal | | B-Boy McCoy |
| 7- 4 | 1:05pm | Perth Heat (International Exhibition Game) | Burgerville Friends & Family Deal | | ZOOperStars |
| 7- 3 | 7:05pm | Medford Rogues | | | B-Boy McCoy/ Fireworks |
| 7- 4 | 7:05pm | Medford Rogues | | | ZooperStars /Fireworks |
| 7- 5 | 7:05pm | Medford Rogues | $3 Craft Beers | | |
| 7- 7 | 7:05pm | Marysville Gold Sox | | Lagunitas Dog Collars | Bark at the Park |
| 7- 8 | 7:05pm | Marysville Gold Sox | | Adventist Health Replica Jersey | TBD Entertainment |
| 7- 9 | 5:05pm | Marysville Gold Sox | Kids Eat Free Brought to you by Adventist Health/Kids Run the Bases Post-Game | Coca-Cola Cowbell | Faith & Family Night |
| 7- 17 | 7:05pm | Lincoln Potters | Burgerville Friends & Family Deal | | |
| 7- 18 | 7:05pm | Lincoln Potters | Two-Dollar – $2 Beer, Pop, Water, and Hot Dogs | | |
| 7- 19 | 7:05pm | Lincoln Potters | $3 Craft Beers | | |
| 7- 20 | 7:05pm | Chico Heat | Two-Dollar – $2 Beer, Pop, Water, and Hot Dogs | | Ate-Oh-Ate Hawaiian Night |
| 7- 21 | 7:05pm | Chico Heat | | Dillon Bobblehead (2) | Breast Cancer Awareness Night Presented by Compass Oncology |
| 7- 22 | 7:05pm | Chico Heat | | Mystery Bobblehead (3) | Brewfest – Matt Kennon & Bryan White Concert |
| 7- 31 | 7:05pm | Yuba City Bears | Burgerville Friends & Family Deal | | |
| 8- 1 | 7:05pm | Yuba City Bears | Two-Dollar – $2 Beer, Pop, Water, and Hot Dogs | Coca-Cola Baseball Stress Ball | |
| 8- 2 | 7:05pm | Yuba City Bears | $3 Craft Beers | Sayler's Old Country Kitchen Team Photo | |
| 8- 3 | 7:05pm | Medford Rogues | Two-Dollar – $2 Beer, Pop, Water, and Hot Dogs | Seattle Mariners Giveaway | Salute the Seattle Mariners Night |
| 8- 4 | 7:05pm | Medford Rogues | | Adventist Health Hat | |
| 8- 5 | 7:05pm | Medford Rogues | | Reusable Shopping Bag | Fan Night, Fireworks |