From our sponsors: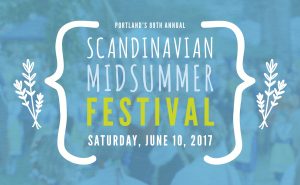 Scandinavian Midsummer Festival
June 10, 2017
11 a.m. – 6 p.m.
Adults $8 / Seniors & Students $7 / Families $17 / Kids 11 & Under Free
Learn more at scanheritage.org/midsummer​
Oaks Amusement Park
7805 SE Oaks Park Way, Portland, OR 97202
In the Northern lands of the midnight sun, it is traditional to warm up after a long cold winter by celebrating Midsummer with friends, food, and drinks. Decorate the Maypole, put some hot dogs on the grill, play games on the lawn, weave magical flower crowns, and dance the day away!
Scandinavian roots are not required to celebrate Portland's 89th Annual Midsummer Festival. It continues to be a fun, family friendly, and important day blending centuries-old traditions in a contemporary festival-style atmosphere — and everyone is invited! Scandinavians in traditional dress will greet our thousands of visitors beginning at 11 AM. Food, drinks, and crafts are available all day from local Nordic clubs, vendors, artists, and makers. The Scandinavian of the Year Award will be given at 1 PM, and the Maypole will be raised at 2 PM – followed by festive dancing and singing!