From our sponsors: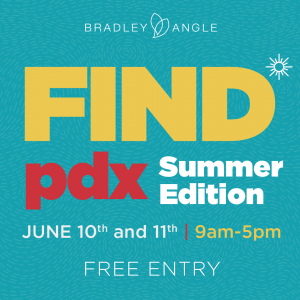 FINDpdx Summer Edition
June 10-11, 2017
9 a.m. – 5 p.m.
Free | All Ages
More info: Facebook
The Old Freeman Factory
2650 NW Wilson Street, Portland, Oregon 97210
Join us for our 3rd FINDpdx event! Through a partnership with a local shipping company, Bradley Angle is the beneficiary of a very large donation of undeliverable, misaddressed, or otherwise abandoned packages. These packages contain any item that someone might order online. All items will be sold for 50% off the lowest marked retail price or the lowest retail price you can find on the internet!
This is a sale like you've never attended before! FINDpdx benefits Bradley Angle, a local nonprofit supporting survivors of domestic violence. That's two bangs for 50% of your buck! We'll have space allotted for volunteer supported pricing this time around, so take your time shopping!
WHAT WILL I FIND at FINDpdx?
Brands we've seen come through the door… clothing and shoes (Michael Kors, Vans, Patagonia, Helmut Lang, Timberland, Nine West, Topo Designs, Victoria's Secret), technology & electronics (Apple, Nikon, Leica, Poloroid, Gramafon, Samsung, GoPro, Synology, Asus, Kindle, Nintendo), Housewares (Mikasa, Corelle, Crate & Barrel, Honeywell, Braun), Toys (Little Tykes, Elf on a Shelf, Disney, National Geographic), sporting goods (Gavin, Okuma, Zumba, Marcy, Sierra Designs, Solomon, Omega), cosmetics (e.l.f., opi, Victoria's Secret, Prada). And much MUCH more!