From our sponsors: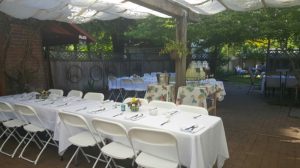 Supper Club Dinner
June 16-17, 2017
$45 for 4-course Dinner
Seating 5:30 p.m., Dinner 6 p.m.
Tickets: reserve6.resnexus.com
Husum Riverside Bed & Breakfast
866 WA-141, White Salmon, WA 98672
Chef Kathy Watson and Husum Riverside Bed and Breakfast are collaborating on a series of dinners that celebrate local Columbia Gorge food and wine. Dinners are served on the beautiful European-style wisteria-covered patio at the B&B.
Each Supper Club dinner has a unique theme. The theme of the next dinner, Friday and Saturday, June 16-17, is "Nearly Summer Icons." The dinner focuses on those late spring foods that disappear in the heat of summer.
"Peas, spinach, fava beans, spring garlic … we only have them for so long," says Chef Watson. "We don't publish the menu in advance, because I'm always hoping and looking for the best from our farms and local waters. Besides local June strawberries, I'm hoping for Klickitat River Spring Chinook salmon for this dinner, too."
The dinners are four courses for $45 per person. Memaloose Winery will also be on hand, pouring optional wine pairings for the courses, and wine by the glass or bottle.
We've set our dates for Supper Club dinners in July and August, too. Here are the dates and themes:
July 7 and 8: New Mexico by Moonlight
August 4 and 5: Classic Night in a Steak House
September 8 and 9: Growing up on Grandma Rose's Farm
As always, you can request: vegetarian, gluten-free and dairy-free (with the exception of butter). And please, if you have a food allergy, let us know: a specific nut or shell fish, for instance. We are more than happy to prepare alternatives for you.
Husum Riverside Bed & Breakfast
To book rooms, use code Din17 for 20% off at reserve6.resnexus.com
Add a one-night stay in any available room on the night of your Dinner by Chef Kathy reservation. Enjoy the evening then enjoy your overnight room followed by a wonderful 5-star home-made breakfast in the morning. Use code Din17 at checkout to receive 20% off your room booked the same night as your dinner reservation.