From our sponsors: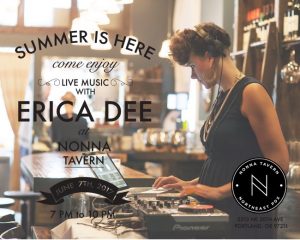 Live Music w/ Vocalist DJ Erica Dee
June 7, 2017
7-10 p.m. | Free
More info: nonnapdx.com
Nonna Tavern
5513 NE 30th AVE., Portland, OR 97211
Come join us June 7th at Nonna Tavern from 7-10 PM in Northeast Portland for live music from Vocalist, DJ Erica Dee.
"A honey laced voice with peachy summer day melodies over stick-to-your-ribs beats & sub-synth harmonies''
The daughter of Bostonian jazz musicians, Erica Dee has been immersed in music her entire life. She discovered her sound within the underground electronic and hip-hop culture of Nelson, British Columbia, Canada. Erica began singing with DJs and bands at the age of 17. In 2007 she embarked on her first nationwide tour with DJ Shadow and released her classic mixtape Golden, which combines 90's R&B flavors with nu house and beat music.
Erica Dee has captivated audiences from Brazil to Israel, and performed with a wide array of artists such as Quest Love, Mark Farina, Masta Ace, Lil' Kim, Nneka, Thievery Corporation, Erick Morillo, Justin Martin, and Bassnectar.
In addition to her recordings, Erica Dee's live show is a refreshing experience; she's an international soulstress that'll lead you to discover the depths of your own heart, beguiling you with melody, rhythm, standout acapella segments and artistically selected productions.