From our sponsors: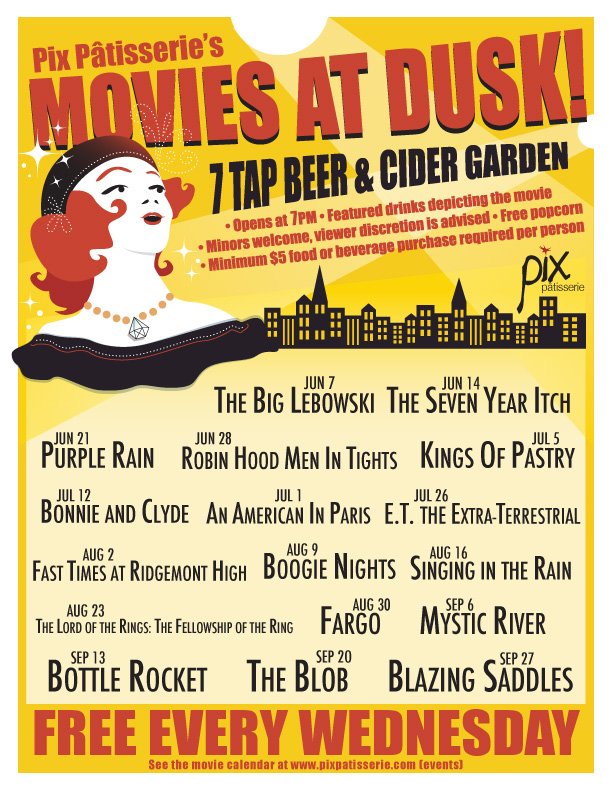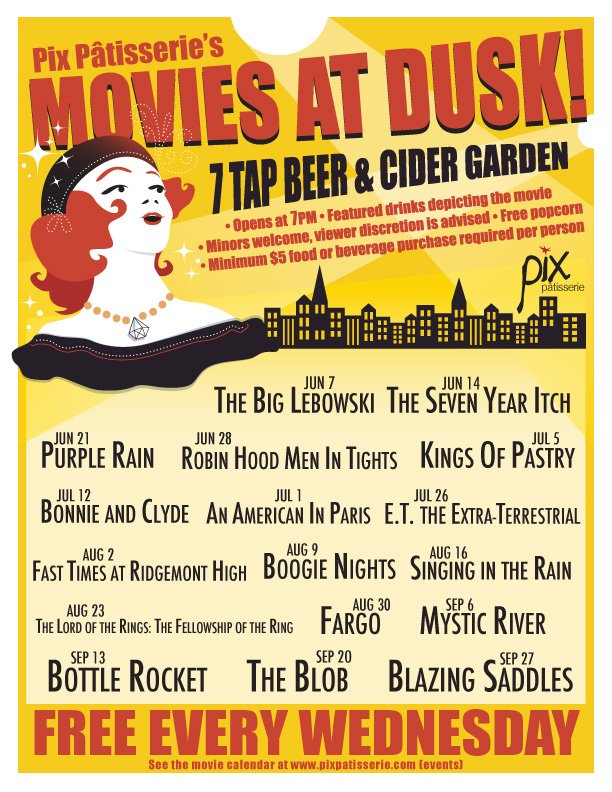 Movies at Dusk Movie Nights
Wednesdays June 7 – September 27, 2017
Free w/ $5 Minimum Purchase | All Ages
More info: pixpatisserie.com
Pix Patisserie
2225 E Burnside St, Portland, OR 97214
(971) 271-716
What better way to spend a hot summer Wednesday night than watching Boogie Nights on the big outdoor screen with a cool, craft beer? Each Wednesday at dusk (approximately 8-9PM depending on the week) Pix will be showing a classic movie in our outdoor courtyard. Get here early to score a seat and order some tapas or a dessert.
Our outdoor beer & cider garden opens at 7PM serving several tasty beers and ciders. And the popcorn is on the house. Minors welcome. Dogs welcome. Movies are free but we ask each guest purchase a minimum of $5 in food and drink.
DATE, MOVIE YEAR / PRODUCER
June 7, The Big Lebowski 1998 / Joel Coen, Ethan Coen
June 14, The Seven Year Itch 1955 / Billy Wilder
June 21, Purple Rain 1984 / Albert Magnoli
June 28, Robin Hood Men in Tights 1993 / Mel Brooks
July 5, Kings of Pastry 2009 / Chris Hegedus, D.A. Pennebaker
July 12, Bonnie & Clyde 1969 / Arthur Penn
July 19, An American in Paris 1951 / Vincente Minnelli
July 26, E.T. the Extra-Terrestrial 1982 / Steven Spielberg
August 2, Fast Times at Ridgemont High 1982 / Amy Heckerling
August 9, Boogie Nights 1997 / Paul Thomas Anderson
August 16, Singing in the Rain 1952 / Stanley Donen, Gene Kelly
August 23, The Lord of the Rings: The Fellowship of the Ring 2001 / Peter Jackson
August 30, Fargo 1996 / Joel Coen, Ethan Coen
September 6, Mystic River 2003 / Clint Eastwood
September 13, Bottle Rocket 1996 / Wes Anderson
September 20, The Blob 1958 / Irvin S. Yeaworth Jr., Russell S. Doughten Jr.
September 27, Blazing Saddles 1974 / Mel Brooks