From our sponsors: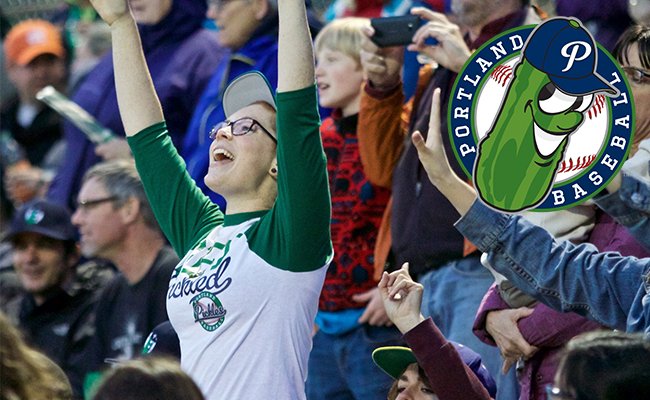 2017 Portland Pickles Baseball
More info: portlandpicklesbaseball.com
Walker Stadium
4601, 4727 SE 92nd Ave, Portland, OR 97266
Portland's newest baseball team's ownership and city officials have teamed up to invest more than $500,000 dollars toward stadium renovations, and the Pickles have plenty of promotions scheduled for the upcoming season.
The Pickles kicked off their second season in the Great West League on Tuesday with a game against the Chico Heat in California and will play a three-game home series versus the Marysville Gold Sox from June 6-8 following the conclusion of their season-opening six-game road trip on Sunday.
This season, the Pickles have improved the organization's frequency of promotions, giveaways and food and drink options. At Tuesday's home opener, the team is offering magnetic schedules for the first 1000 fans and Radio Cab seat cushions for fans who have purchased pavilion area tickets. The first of four fireworks displays for the season will take place after the game.
In game two of the three-game set against the Gold Sox on Wednesday, the Pickles are featuring a selection of craft beer options to be sold at the game for $3 dollars each. The Pickles' $3 dollar craft beer specials will be offered at all Wednesday games on the team's home schedule.
To conclude the series against Marysville on June 8, the Pickles will take the field as the Twin Peaks Steeplejacks as a part of Twin Peaks Night. Included in the Twin Peaks Night festivities are green Twin Peaks Sheriff's Department beanies for the first 400 fans, free coffee and cherry pie for fans while supplies last and limited edition Twin Peaks buttons will be handed out to fans upon exit.
First pitch for all three games is slated for 7:05 p.m. and gates will open up at 6:05 p.m. Visit portlandpicklesbaseball.com to purchase single game tickets and call the Pickles' front office at 503-775-3080 for more information on ticket packages and group outings.
Come on out to watch the Pickles take on the rest of the Great West League all summer long!
2017 Home Game Schedule
| | | | | | |
| --- | --- | --- | --- | --- | --- |
| | Time | Opponent | Promo | Special | Theme |
| 6- 6 | 7:05pm | Marysville Gold Sox | | Magnetic Schedule/Radio Cab Seat Cushions | Fireworks |
| 6- 7 | 7:05pm | Marysville Gold Sox | $3 Craft Beers | | |
| 6- 8 | 7:05pm | Marysville Gold Sox | Two-Dollar – $2 Beer, Pop, Water, and Hot Dogs | Twin Peaks Sheriffs Beanie | Twin Peaks Night |
| 6- 9 | 7:05pm | Chico Heat | | Pennant | The Amazing Christopher |
| 6- 10 | 7:05pm | Chico Heat | | Dillon Bobblehead (1) | Tackle Jon Ryan Night |
| 6- 11 | 5:05pm | Chico Heat | Kids Eat Free Brought to you by Adventist Health/Kids Run the Bases Post-Game | Adventist Health Hat | Vintage Baseball Game |
| 6- 19 | 7:05pm | Yuba City Bears | Burgerville Friends & Family Deal | | |
| 6- 20 | 7:05pm | Yuba City Bears | Two-Dollar – $2 Beer, Pop, Water, and Hot Dogs | | |
| 6- 21 | 7:05pm | Yuba City Bears | $3 Craft Beers | | Guaranteed Win Night |
| 6- 23 | 7:05pm | Lincoln Potters | | A-1 Automotive Beanie | |
| 6- 24 | 7:05pm | Lincoln Potters | | Scarf | Portland Mavericks Night |
| 6- 25 | 5:05pm | Lincoln Potters | Kids Eat Free Brought to you by Adventist Health/Kids Run the Bases Post-Game | Columbia Bank T-shirt | Columbia Bank Cash Scramble |
| 7- 3 | 1:05pm | Perth Heat (International Exhibition Game) | Burgerville Friends & Family Deal | | B-Boy McCoy |
| 7- 4 | 1:05pm | Perth Heat (International Exhibition Game) | Burgerville Friends & Family Deal | | ZOOperStars |
| 7- 3 | 7:05pm | Medford Rogues | | | B-Boy McCoy/ Fireworks |
| 7- 4 | 7:05pm | Medford Rogues | | | ZooperStars /Fireworks |
| 7- 5 | 7:05pm | Medford Rogues | $3 Craft Beers | | |
| 7- 7 | 7:05pm | Marysville Gold Sox | | Lagunitas Dog Collars | Bark at the Park |
| 7- 8 | 7:05pm | Marysville Gold Sox | | Adventist Health Replica Jersey | TBD Entertainment |
| 7- 9 | 5:05pm | Marysville Gold Sox | Kids Eat Free Brought to you by Adventist Health/Kids Run the Bases Post-Game | Coca-Cola Cowbell | Faith & Family Night |
| 7- 17 | 7:05pm | Lincoln Potters | Burgerville Friends & Family Deal | | |
| 7- 18 | 7:05pm | Lincoln Potters | Two-Dollar – $2 Beer, Pop, Water, and Hot Dogs | | |
| 7- 19 | 7:05pm | Lincoln Potters | $3 Craft Beers | | |
| 7- 20 | 7:05pm | Chico Heat | Two-Dollar – $2 Beer, Pop, Water, and Hot Dogs | | Ate-Oh-Ate Hawaiian Night |
| 7- 21 | 7:05pm | Chico Heat | | Dillon Bobblehead (2) | Breast Cancer Awareness Night Presented by Compass Oncology |
| 7- 22 | 7:05pm | Chico Heat | | Mystery Bobblehead (3) | Brewfest – Matt Kennon & Bryan White Concert |
| 7- 31 | 7:05pm | Yuba City Bears | Burgerville Friends & Family Deal | | |
| 8- 1 | 7:05pm | Yuba City Bears | Two-Dollar – $2 Beer, Pop, Water, and Hot Dogs | Coca-Cola Baseball Stress Ball | |
| 8- 2 | 7:05pm | Yuba City Bears | $3 Craft Beers | Sayler's Old Country Kitchen Team Photo | |
| 8- 3 | 7:05pm | Medford Rogues | Two-Dollar – $2 Beer, Pop, Water, and Hot Dogs | Seattle Mariners Giveaway | Salute the Seattle Mariners Night |
| 8- 4 | 7:05pm | Medford Rogues | | Adventist Health Hat | |
| 8- 5 | 7:05pm | Medford Rogues | | Reusable Shopping Bag | Fan Night, Fireworks |