Celebrate Oregon's beautiful state parks for FREE on June 3! Parks will be hosting special events.
———————————————
Related Portland Events & Giveaways
———————————————
From press release: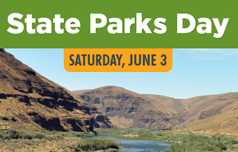 Oregon State Parks Day
June 3 2017
More info: oregonstateparks.org
The Oregon Parks and Recreation Department (OPRD) invites people to stay and play for free to celebrate State Parks Day on Saturday, June 3.
Camping will be free the night of June 3 in all RV hookup sites, tent sites and horse camps. Day-use parking will be free both June 3 and 4 at the 26 parks that charge a day-use fee.
People can reserve online at www.oregonstateparks.org or by calling 800-452-5687. Phone reservations must be made by 5 p.m. June 2. The campsite rental will be free, but all reservations will still include an $8 non-refundable transaction fee. Of the 56 state park campgrounds, 46 take reservations.
"State Parks Day is Oregon's way to say thank you for supporting your state park system," said OPRD Director Lisa Sumption. "We welcome all Oregonians to connect with their favorite state park, or even enjoy a new one for the first time."
State Parks Day is always the first Saturday in June. The Oregon State Legislature established the free day in 1997 to focus public attention on Oregon's state park system.
Parks around the state will hold special events on June 3. Silver Falls State Park east of Salem will hold its annual foot races. The Silver Falls Challenge includes a 5K, six-mile run and a kids' 1,500-meter run.
Detroit Lake State Park will offer free hot dogs, a visit from OPRD mascot JR Beaver, and Junior Ranger programs for the kids. For a complete list of events, go to www.oregonstateparks.org and click on "things to do."
Four parks in the Bend area — Tumalo, LaPine, Prineville and Cove Palisades — will hold geology hikes or presentations that weekend.
Detroit Lake will also participate in the Oregon Department of Fish and Wildlife's (ODFW) Free Fishing Weekend. Visitors will be able to fish, crab and clam without a license June 3-4 at parks around the state. ODFW will provide the gear, bait and instructions.
Other state parks offering free fishing include Benson State Recreation Area in the Columbia River Gorge, Fort Stevens State Park near Astoria, and Champoeg State Heritage Site north of Salem. For a complete list of parks with fishing events go to www.dfw.state.or.us/education/angling/free_fishing.asp.
———————————————
Our Portland Events App for PDX Pipeline is now available for iPhones, Android phones and iPads!
Now, you can have all of the great Portland events from our website in the palm of your hand when you're out on the town.
Download the App for iPhone here
Download the App for Android here
–————————
———————————————