From our sponsors: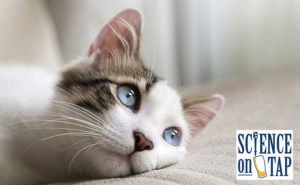 Science on Tap: Inside the Feline Mind
June 7, 2017
Doors at 6 pm, event at 7 pm
$13 General | $8 students with ID (minors under 21 with parent/guardian only)
Tickets: albertarosetheatre.com
More info: viaproductions.org
Alberta Rose Theatre
3000 NE Alberta Street, Portland, OR
Have you ever wondered what goes inside your cat's furry little brain? Let Dr. Rolan Tripp, a veterinarian and animal behaviorist, take you on a guided tour through the feline mind, from genetics to geriatrics. Learn answers to questions like:
Why do cats hiss?
Why bring me a dead mouse?
Why head-butt people as affection?
Why ask for stroking then attack a person for doing it?
Why not just use the perfectly good litter box you provide for them?
Come to this entertaining lecture to get an entirely new perspective on the semi-wild animal in your life.
Dr. Tripp holds a doctorate in veterinary medicine as well as academic degrees in Philosophy and Music. He is an Affiliate Professor of Applied Animal Behavior at two US Veterinary Schools, and certified by the International Assn of Animal Behavior Consultants. Dr. Tripp has published over 40 articles on pet behavior, and given over 100 lectures to veterinary associations. In addition to the Smithsonian Institution in Washington, DC, he has presented in England, Japan, Puerto Rico, and Canada, including giving the Keynote Address at an international veterinary meeting. He has appeared on Animal Planet over 200 times as a content expert.
Food and Drink: Beer, wine, popcorn, hand pies, and an assortment of sweets and snacks available.
Back by popular demand! This is a repeat of the sold-out events held at the Alberta Rose Theatre on Tuesday, March 14.