From our sponsors: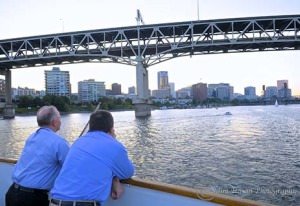 Father's Day Cruises
June 18, 2017
Adults $58
Children (4-12) From $29
Tickets and reservations: portlandspirit.com
Dad has always been there for you, and now you can treat him to a truly memorable moment. Celebrate Father's Day in a new way this year: bring the whole family aboard a Portland Spirit Cruise! Choose from brunch cruises in Downtown Portland or Cascade Locks, a scenic dinner cruise, or an adventure on the Explorer.
Brunch pricing from $58/adult; $29 children 4-12
Includes private table, brunch buffet, champagne or sparkling cider, juice, hot coffee, hot tea, dessert, gratuity and a special gift to celebrate each Dad!
Father's Day Brunch Cruise
Aboard: Portland Spirit
Board: Salmon Street Springs, Portland OR – map
Boarding Time: 9:00am Sun 6/18
Cruise Time: 9:30am-11:30am
Father's Day Brunch Cruise
Aboard: Columbia Gorge Sternwheeler
Board: Marine Park, Cascade Locks OR – map
Boarding Time: 9:00am Sun 6/18
Cruise Time: 9:30am-11:30pm
Father's Day Brunch Cruise
Aboard: Willamette Star
Board: Caruthers Landing, Portland OR – map
Boarding Time: 1:30pm Sun 6/18
Cruise Time: 2:00pm-4:00pm
Other cruises on Father's Day
Heart of the Gorge Cruise
Aboard: Explorer
Board: Salmon Street Springs, Portland OR – map
Boarding Time: 8:15am Sun 6/18
Cruise Time: 8:30am-3:30pm
Sightseeing Cruise
Aboard: Columbia Gorge Sternwheeler
Board: Marine Park, Cascade Locks OR – map
Boarding Time: 1:15pm Sun 6/18
Cruise Time: 1:30pm-3:45pm
Sightseeing Cruise
Aboard: Columbia Gorge Sternwheeler
Board: Marine Park, Cascade Locks OR – map
Boarding Time: 2:30pm Sun 6/18
Cruise Time: 2:45pm-5:00pm
Portland Bridges Cruise
Aboard: Explorer
Board: Salmon Street Springs, Portland OR – map
Boarding Time: 4:15pm Sun 6/18
Cruise Time: 4:30pm-5:45pm
Gorgeous Dinner Cruise
Aboard: Columbia Gorge Sternwheeler
Board: Marine Park, Cascade Locks OR – map
Boarding Time: 5:30pm Sun 6/18
Cruise Time: 6:00pm-8:00pm