We are giving away a pair of tickets to Portland Pun-Off on June 22 . To win, comment on this post why you'd like to attend. Winner will be drawn and emailed Monday, June 12.
———————————————
From our sponsors: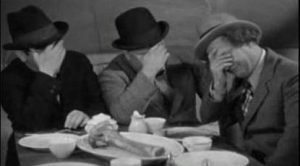 Portland Pun-Off
June 22, 2017
Doors 7 p.m., Starts at 7:30 p.m.
$15 Audience, $10 Competitors
More info: e.sparxo.com/Portland-Pun-OffJune-22
Location: 931 SE 6th Ave, Portland, Oregon, United States
The Bay Area Pun-Off is coming to the Pacific Northwest!
Why'd they stop mining in Portland? Ore Gone.
You're what kind of donor? Oregon.
(There are tons more where those came from, but we'll let your anticipation build.)
Join us and celebrate the contagious power of the PUN, the irresistible wordplay sourced in a seemingly endless supply of multiple meanings for a single word or phrase. Prized tool of parents, kindergarten teachers, obnoxious friends, and Witzelsucht patients everywhere!
***Ticket format: AUDIENCE just needs a General Admission ticket. COMPETITORS just need a Competitor ticket for either or both categories.
AUDIENCE, just get yourself a general admission ticket and come to enjoy the pun-off – OR… sign up to COMPETE… pay less and earn a free drink! First timers very welcome – all rules will be explained and you will be well prepped at the event. *Seriously, this is the warmest crowd in town.
Prepared Pun Puntificators will open the evening with Original punning on a topic of their choosing – Please keep it to 2 minutes maximum. This is a non-judged portion of the evening.
Punslingers will battle fellow punsters in rounds of freestyle punning on a given category following a full audience warm-up. Last person standing gets official handmade trophy, in addition to bragging rights (if you can call 'em that…)
*all categories and rules subject to change.
Finally, remember: At the Pun-Off, puns don't have to be funny, they just have to be puns.