We are giving away a pair of tickets to The Polish Ambassador + HÄANA & The Bohemian Dub Orchestra @ Crystal Ballroom on May 12. To win, comment on this post why you'd like to attend. Winner will be drawn and emailed Monday, May 8.
———————————————
From our sponsors: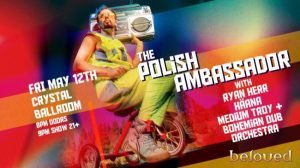 The Polish Ambassador + HÄANA & The Bohemian Dub Orchestra
May 12, 2017
8 p.m. | $27 ADV | 21+
More info: Facebook
Crystal Ballroom
1332 W Burnside St, Portland, Oregon 97209
The Polish Ambassador (real name David Sugalski) is raising the bar for what it means to be a professionally touring musician. Sure, the electronic musician lays claim to producing the sweetest beats this side of the Milky Way Galaxy, but the world's funkiest diplomat is also using his popularity to steer the millennial generation toward a nourishing and sustainable way of relating with art, community and the planet. From birthing the Permaculture Action Movement (a movement where the energy of show/festival goers is catalyzed into community action), to creating a program where nutritious beverage options are available at music venues on a routed TPA tour, the ambassador is using his clout to make real, tangible change, and along the way inspiring hundreds of thousands.
With a stack of 17 albums and countless remixes, the jumpsuited one ( that's right…TPA rocks the freshest jumpsuit) has swirled together a cornucopia of music for your auditory senses…and your booty. Over the last decade, his sound has dipped and swirled through a staggering range of styles, each album exploring uncharted sonic territory. Warm, analogue dreamwave; mind-altering glitch; world-infused groove; bass-fueled breaks; sexified down-tempo; electric lullabies; and psy-fi funk are just a few of the genres that have poured from the Ambassador's soul into earbuds and ghetto-blasters across the galaxy.
In the live setting, expect to be taken on a masterfully crafted and evocative journey mixing old and new into an auditory canvas that will spark nostalgia, titilate your senses, and make you drop that bottom like it was '92…3092. All of that music you hear? It's all created via solar power on TPA's off-grid community homestead AND it's available for free or "Name Your Price." Just one of the ways The Ambassador says "Thank You" to all of the people out there who have supported the project along the way.
So if TPA's earth-space escalade is docking at a city or festival near you…dust off your onesie, get ready to boogie and gear up for an epic community action day. Welcome to the future, where we don't just party. We party with a purpose.
~ HÄANA ~
LA-based producer/violinist/vocalist HÄANA's original productions are like a filmscore: Nordic and Icelandic-tinged music merged with digital and analog. She counts Massive Attack, Björk, and Trentemøller as influences in crafting her sounds, featuring electronica influences and synthetic sonority. The resulting sonic palate takes listeners on a journey whose destination is a crossroads between classical and contemporary, organic & man-made, familiar and mysterious. HÄANA has been featured in Vogue, and special appearances include performing for Michael Jordan's wedding, opening for The Rolling Stones with Kanye West, and for Obama's Inaugural Ball. Coming off a relentless past summer of festival performances and club dates (Lightning in a Bottle, Arise, Lucidity, Enchanted Forest, Beloved, La Calaca, and more) alongside the likes of Opiuo, Ott., Haywyre, Minnesota, Dirtwire, Dimond Saints, and starting 2017 with support plays at sold-out shows with Desert Dwellers and Kayla Scintilla at 1015 Folsom (SF) and Ogden Theater (Denver), HÄANA now looks to the release of her SALT EP through Paper Gold Records in early May, 2017, and a May/June album release tour. "Sonic stardust." (Vogue) "Rather breathtaking." (Clash, UK) "Luminous frequencies & violin instrumentation tied with foreign Icelandic lyrical messages are found in her voice…" (Afro Monk) "Majestic" (Nothing But Hope & Passion)
~ Ryan Herr ~
Ryan Herr has been weaving his mix of live and electronic music for festivals, events, ecstatic dances, and retreats throughout the world for nearly 20 years. His sets are loved for his synthesis of original and live elements and his uniquely designed blend of genres and cultures, both contemporary and classic, mixed with on-the-spot compositions and original remixes. Many have come to know his music through his collaborations and performances with The Polish Ambassador, Wildlight and Ayla Nereo. Ryan has become a featured artist/producer on many of their album releases and has produced several successful remixes for TPA's label, Jumpsuit Records. He also recently produced the Wildlight – The Tide (Acoustic) album as well as co-produced Ayla Nereo's "The Code of the Flowers". He has a diverse and dynamic background of musical genres and styles and has been creating music for yoga, dance, film and meditation throughout his career. He has performed at many major festivals around the country, including Lightning in a Bottle, Symbiosis, Beloved, Lucidity, Arise, Imagine, and Phases of the Moon. He focuses much of his attention on the medicinal aspects of music and dance, and always incorporates a healthy dose of improvisation into his live sets.