From our sponsors: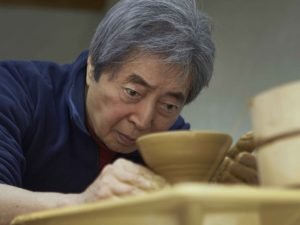 Portland Japanese Garden presents
Hosokawa Morihiro: The Art of Life, A Rebirth in Clay
April 2 – May 21, 2017
Included w/ Garden Admission
12-7pm Monday
10am-7pm Tuesday-Sunday
More info: japanesegarden.org
Portland Japanese Garden
611 SW Kingston Ave, Portland, OR 97205
Photo by Yoshihiro Saito
Portland Japanese Garden is honored to present a glimpse into the creative life and work of former Prime Minister Hosokawa Morihiro. As the 18th generation head of the Hosokawa clan of samurai, Hosokawa left a career in politics behind and retired at the age of 60 to Futoan, his family estate in Yugawara, a small coastal town in Kanagawa south of Tokyo.
Retreating from public life, he pursued instead the quiet life of an artist, studying Zen, practicing his own style of tea ceremony, and apprenticing with master potter Tsujimura Shiro—ultimately creating beautifully understated ceramic tea wares, rustic sculpture, lacquered bamboo tea scoops, painted screens, and poetic inscriptions in calligraphy.
With 600 years of family history as warriors, tea masters, calligraphers, and poets behind him, this modest Renaissance man spent a year and a half reinventing his life. Today Hosokawa practices the art of life—tending his vegetable garden, writing Zen inscriptions in calligraphy, and spending time in his studio where he makes the simple ceramic tea bowls, jars and rustic Buddhist sculptures that express an inner life of modesty and compassion, far removed from the battlefield of modern politics.
"I find making pottery is a bit like Zen meditation," says Hosokawa. "My mind concentrates on the task at hand, although I can't say I become completely detached from everyday life." His inheritance of the samurai's respect for Bunbu-Ryodo, the Twofold Path of Pen and Sword, reveals itself subtly in his work and in the words he chooses to express himself. (He has claimed that "being cultured means being sympathetic" and that "modesty is the virtue of all virtues.")
Visit the Garden before May 21 to see works by Hosokawa in the Pavilion Gallery and the new Tanabe Gallery.