From our sponsors: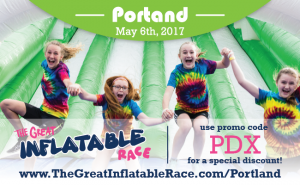 The Great Inflatable Race
May 6, 2017
9 a.m. | VIP $90/Regular $75 | All Ages
Save w/ discount code "PDX" at thegreatinflatablerace.com/Portland
Portland International Raceway
1940 N Victory Blvd. Portland, OR 97217
The Great Inflatable Race is coming to Portland on May 6th, 2017 at the Portland International Raceway for it's second year in a row! The Great Inflatable Race is the first and original all inflatable obstacle fun run that uses giant inflatables spread throughout the running course. You'll start the race climbing one of our inflatables and then race your friends and family to the next inflatable obstacle. This bouncy course contains between 8-10 massive inflatables that will bounce, bump and slide you all over the place! You'll finish the race with a perfect photo op on our final inflatable, and after a nice refreshing drink, you can check out our awesome Inflatable Village.
The inflatables are one of a kind, and your whole family will enjoy this amazing run. Bring your kids and feel like a kid again yourself.
The Portland location of The Great Inflatable Race is benefiting the Portland Police Bureau's Sunshine Division.
Prices are more than 50% OFF right now on the site but we're offering an additional special discount to you by using the promo code "PDX". Don't miss out on The Bounciest Fun Run on Earth and register today at www.TheGreatInflatableRace.com/Portland