From our sponsors: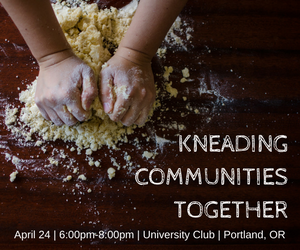 Kneading Communities Together: Food Culture From Jeddah to Portland
April 24, 2017
6-8 p.m. | Free
Register at eventbrite.com
University Club of Portland
1225 Southwest 6th Avenue, Portland, OR 97204
The time-honored tradition of bread-baking has been challenged by the ease of processed foods, and the art of baking is not what it once was. In Saudi Arabia, where chain restaurants and fast-food are growing in popularity, few have spoken out on behalf of the value of fresh foods and baked goods before they disappear. One exception is visiting chef, Badr Fayez, who has single-handedly been setting new standards of excellence in Saudi Arabia's food and beverage industry. Just as Portland chefs have done in the U.S., Fayez is working to redefine food culture in his own country by emphasizing the importance of sustainable and ethical ingredients.
"It doesn't matter what the flour is like, it is how you work with it that matters," Fayez says. Applying his mentality in the kitchen to society, visiting Chef Badr Fayez will sit alongside Tabor Bread's owner Tissa Stein, freelance food writer Heather Arndt Anderson, and People's Food Co-op's Sofie Sherman-Burton to compare and contrast the Saudi and American experiences on how to work with communities to inspire a cultural shift about the art of cooking with fresh ingredients, and the place of bread in our diets.
The panel discussion will take place from 6:00-7:15 pm, followed by a reception featuring appetizers and fresh bread provided by Tabor Bread.
ABOUT BADR FAYEZ
Badr Zuhair Fayez is a chef and restaurateur dedicated to elevating Saudi cuisine. Young, energetic, enthusiastic and determined to change the ways that people eat in Saudi Arabia, Chef Fayez is elevating traditional dishes and quality ingredients as he sees his country turning to fast food and processed food options. His impressive resume of gastronomic experiences includes training at Le Cordon Bleu in France, an internship at the Grand Hotel in Vienna, and several months of shadowing chefs in Southeast Asia.
After twelve years abroad, Fayez was inspired to return to Saudi Arabia to redefine the contemporary dining industry. In the Kingdom, Fayez noticed that the food and beverage industry had become corrupted by businessmen who only cared about quick financial gain, while neglecting the quality of both food and service. This inspired Fayez to enter the restaurant business and set new standards in the field. Fayez has since opened two restaurants and a bakery in Jeddah. Both restaurants specialized in seafood, one a high-end seafood restaurant and the other a sushi bistro; his bakery, Wheat and Butter Factory, is quickly becoming a presence in the city as one of few by-hand bakeries using only ethical, sustainable, whole ingredients. In addition, Fayez is the CEO of Badr Fayez Catering company, has served as a judge on Master Chef Arabia, and has made countless appearances on live cooking shows. Fayez has a Bachelor of Culinary Arts and an M.B.A. in Marketing from the College of Culinary Arts at the University of Johnson and Wales in Rhode Island. He also holds a degree from Le Cordon Bleu Institute in Basic Cuisine.