From our sponsors: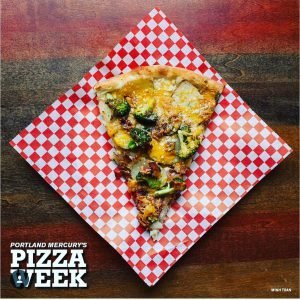 Portland Pizza Week: Broccoli Bacon Pizza au Gratin
$2 a Slice
April 17-22, 2016
11 am-1 am. Limit two slices per person; takeout available.
More info: portlandpizzaweek.com
Blackbird Pizza
1935 SE Hawthorne Blvd, Portland, OR 97214
(503) 236-5223
BRACE YOURSELF, PORTLAND. Here comes Pizza Week.
Broccoli Bacon Pizza au Gratin. There's a lot going on here. Give yourself a few minutes to take it all in. It'll be available For $2 a slice starting on Monday.
Broccoli, bacon, potatoes au gratin, cheddar and mozzarella, and a garlic-and-olive-oil base. Vegetarian option available, too!