From our sponsors: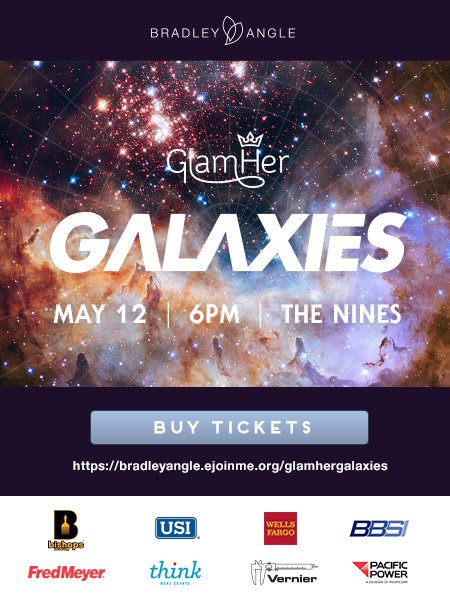 GlamHer Galaxies
May 12, 2017
6 p.m. | $150
Tickets: bradleyangle.ejoinme.org
The Nines
525 SW Morrison St., Portland OR, 97204
GlamHer, Bradley Angle's signature event, celebrates galactic ideas at this year's science fiction-inspired masquerade ball. Hosted on May 12 at 6pm at the posh Nines Hotel in downtown Portland, guests are encouraged to don glitter and metallic colors and bring starry skies and dreams to life.
This sassy, unique affair is hosted by Portland drag legend, Poison Waters, and her fabulously entertaining friends, Portland's most notable queens. All proceeds go to support survivors of domestic violence.
About Bradley Angle
Founded in1975, Bradley Angle is one of the first emergency shelters in the country and the first domestic violence shelter on the West Coast. The Portland-based organization provides inclusive and accessible support services to domestic violence survivors of diverse cultures, backgrounds, experiences and lifestyles. Our vision is to build communities that are free from domestic violence and oppression—where loving, compassionate and equitable relationships exist for all people. Bradley Angle programs include: emergency shelter and services, housing assistance, youth & family services, LGBTQ specific services, support groups,Healing Roots program specific to survivors in the African American community, and an economic empowerment program. The organization serves more than 800 adults and children a year. Visit www.bradleyangle.org for more information.