We are giving away a pair of tickets to Soul'd Out Festival Presents Ohio Players w/ Shock & Andy Stokes @ Roseland Theater on April 22. To win, comment on this post why you'd like to attend. Winner will be drawn and emailed Friday, April 14.
———————————————
From our sponsors: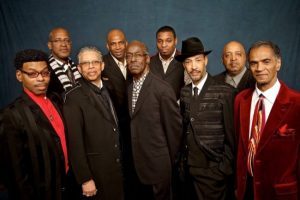 Ohio Players w/Shock & Andy Stokes
April 22, 2017
Show 8 p.m. | $35-49 | 21+
Tickets: souldoutfestival.com
More info: souldoutfestival.com
Roseland Theater
8 NW 6th Ave, Portland, OR 97209
Ohio Players (formed in 1959) is an acclaimed American funk and R&B group who enjoyed their greatest success in the 1970s, notably with their No. 1 album "Fire", hailing from Dayton, Ohio, U.S.
Originally comprising vocalist/guitarist Robert Ward, bassist Marshall Jones, saxophonist/guitarist Clarence Satchell, drummer Cornelius Johnson, and trumpet/trombone player Ralph Middlebrooks in 1959, at this time the group was the backing band for the R&B group Falcons. Disappointed with Ward's unreliable leadership, the band moved back to Dayton, Ohio, found a replacement in singer Leroy "Sugarfoot" Bonner, and changed their name to the Ohio Players.
With the addition of trumpeter Bruce Napier, vocalist Charles Dale Allen, and trombonist Marvin Pierce, the group found modest success with their 1971 single "Pain". The accompanyng LP "Pain" arrived shortly afterwards, followed a year later by the full-length "Pleasure". Spawning their biggest hit to date, "Funky Worm", "Pleasure" was influenced by the funk of Sly & the Family Stone, and made way for "Ecstasy" in 1973.
Following the release of 1974's "Climax" the band signed with Mercury Records, and underwent a number of lineup changes. The Ohio Players subsequently became known for their sexually alluring LP covers, beginning with 1974's "Skin Tight", which spawned their most quintessential track to date "Jive Turkey". The following year the Ohio Players enjoyed their greatest success with their No. 1 album "Fire", led by the No. 1 title track and subsequent No. 1, "I Want to Be Free". Heralded as the Ohio Players' masterpiece, the record combined seductive soulful vocals, the groove and beat of funk, and the alluring poetry of R&B to create something timeless.
The band's subsequent release, 1975's "Honey" also found favour among fans and critics alike, aided by the instantly-recognisable smash hit single "Love Rollercoaster". As the seventies marched on so did the Ohio Players, achieving their last R&B No. 1 in 1976 with the single "Who'd She Coo?", taken from the full-length "Contradiction". 1978's full-length "Jass-Ay-Lay-Dee" proved to be the last release on Mercury Records, and after signing with Arista, released the studio album "Everybody Up" in 1979. Undeterred by falling sales, the band released a series of albums in the 1980s on the labels Boardwalk, Century Vista, and Track Record, including "Tenderness", "Ouch", and "Back".
SHOCK
In 1981, after the release of their breakout single, "Let's Get Crackin", Rolling Stone Magazine picked Shock as one of the top ten new artists of the decade. With comparisons to P Funk, Earth Wind & Fire, and Cameo, the expectations were high. And although the band did follow up with subsequent hits "Electrophonic Funk" (1982) and "Waiting On Your Love" (1983), a constellation of factors eventually brought this 1st chapter of Shock to a close. Shortly thereafter band leader/ keyboardist Roger Sause, producer/ guitarist Marlon McClain, and bassist Joe Plass began writing, recording and touring with smooth jazz star Kenny G. Then, in 1989 Sause and McClain hooked up again to produce a more pop-oriented Shock album. Even though the single "Talk About Love" got a lot of airplay (particularly in Europe and Australia where it hit #1 on many dance charts), the momentum wasn't enough to keep things rolling and Shock fell off the radar screen once again. Fast forward to 2007 when SHOCK was nominated on the 1st ballot for induction into the Oregon Music Hall of Fame and Marlon McClain was to be inducted for a lifetime achievement award.
ANDY STOKES
I am certain that if you look into the Soul of Portland, you will find Andy Stokes…among other things. Andy Stokes spent his formative years moving between Danville, Virginia, where he was born, and Germany, where his father was frequently relocated while in the Army.
A football scholarship brought him to the Great Northwest in 1975, where he has resided ever since. He described his family, now located in the Tacoma area, as "all-Army, jocks – all sports." "There was some music in the household in the form of record albums: Temptations, Percy Sledge, Aretha Franklin, Sylistics and such. I'd just be in my room with my back leaning against the hi-fi, using the broomstick as a mic." Though Andy claims that he never intentionally set out to perform music, he sort of "fell into it." "Sure, I sang around the house. I especially enjoyed the sounds of James Brown and Stevie Wonder."
Having performed over the years with local Portland icons like Cool'R (his own band), Curtis Salgado, Linda Hornbuckle, and New Shooz. He has also performed nationally with Michael Bolton, George Clinton, Connie Stevens, Temptations, Stylistics and others on a broader scale. Additionally, he was voice for one of the famous California Raisin characters, developed at Will Vinton Studios. It was a CBS special in 1989, called "Meet the Raisins." Now, how many artists can say they have been able to interpret the voice of a piece of fruit? In 2009 Andy Stokes was inducted into the "Oregon Music Hall of Fame" with the band Cool'R.
Andy's heart and soul are worn on his sleeve as he sings everything from soulful power ballads to upbeat funk tunes that make your whole body want to move. His voice and his emotion are certainly powerful and positive musical forces to be reckoned with and you will be singing the songs long after the lights of the stage have gone down.