From our sponsors: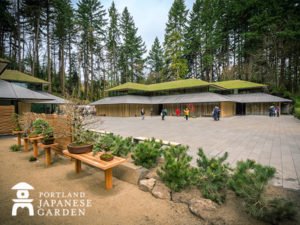 Cultural Crossing: A New Beginning
Opens April 2, 2017
Monday: Noon-7pm
Tuesday-Sunday: 10am-7pm
Last General Admission is at 6:30pm
More info: japanesegarden.org
Portland Japanese Garden
611 SW Kingston Ave, Portland, OR 97205
This month, the Portland Japanese Garden unveiled its $33.5 million Cultural Crossing expansion project. An historic event, the expansion honors the beauty and tranquility of the five traditional gardens, created by a group of visionary citizens more than fifty years ago. Together with the Portland Japanese Garden's Curator, third generation master garden craftsman Sadafumi Uchiyama, world renowned architect Kengo Kuma designed the organization's new Cultural Village.
Three New Gardens
While the existing gardens have remained unchanged, the Cultural Village introduces three new garden spaces: The Entry Garden with cascading ponds and a water terrace at the entrance in Washington Park; Tsubo-Niwa (a small vignette garden) in the new Tateuchi Courtyard; and the Ellie M. Hill Bonsai Terrace.
Master Craftsmanship
Using a combination of locally sourced materials and Japanese craftsmanship, each new LEED-certified structure exists harmoniously with nature. The new Jordan Schnitzer Japanese Arts Learning Center, home to gallery spaces, a multi-purpose classroom, the Garden Gift Shop and the Vollum Library, offers a comprehensive resource on Japanese gardening and arts. The new Garden House will provide a space for horticulture workshops.At the heart of the Village, visitors will find the authentic Umami Café, which, starting in May, will provide a place to rest and refresh while experiencing gracious Japanese-inspired service firsthand.. The café's unique location appears to "float" on the hillside.
The final new addition is a medieval Castle Wall, a creation led by a 15th-generation Japanese master stonemason. The wall, nearly 20 feet high, was built using traditional hand tools with granite from Eastern Oregon.
For more information about the Garden and details on hours and admission, see japanesegarden.org.